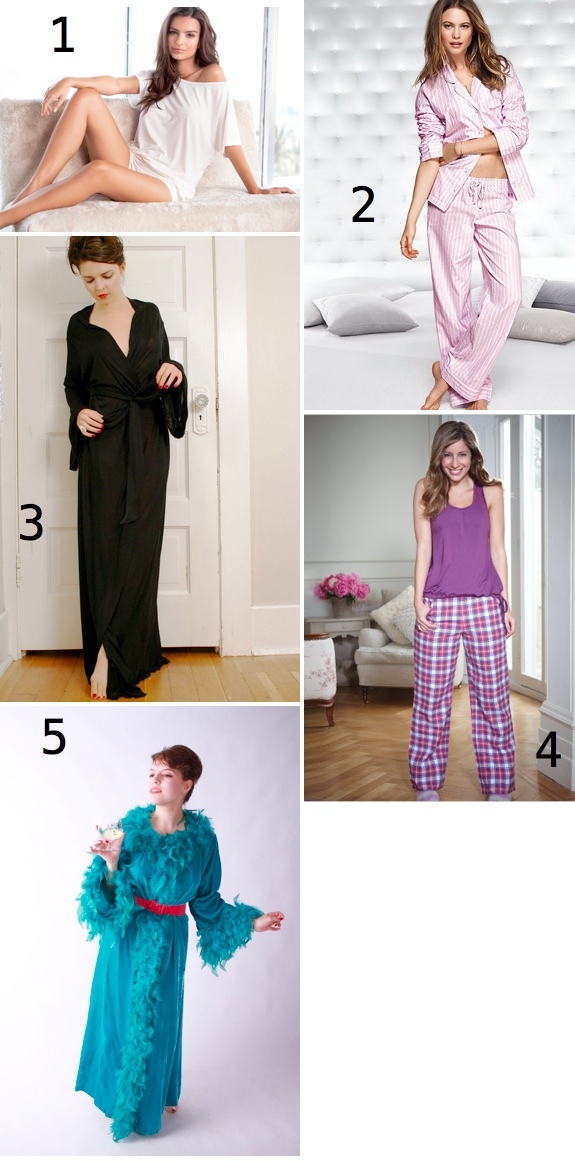 I feel a little guilty for writing about pretty loungewear pieces while Hurricane Sandy tears through the eastern seaboard, but I think these pieces work equally well whether you're stuck in a hurricane or having a weekend in. If you are in the path of the hurricane, stay safe!
There's lots of gorgeous and girly loungewear out there, but I'm less of a fan of frilly things and more into pieces that are comfortable, pretty, and reasonably practical. After all, it's hard to lounge comfortably if you can't drink a cup of coffee in whatever you're wearing (at least if you're a klutz like me). I also generally like for my loungewear to be easily washable, although I'll always make an exception for a true vintage feathered robe.
1. The Lovely Ever After Soft Tee and Breezy Boy Short by Naked Princess
This set is perfect for absolutely everything from lazy Sundays to sleepovers. Naked Princess makes the softest modal pieces on the market which hold up marvelously over time. It's shown in white here, but my favorite colorway is the charcoal from last season. It's a slate grey with a purple/blue undertone that is elegant, unusual, and looks good on everyone.
2. The Dreamer Flannel Pajama by Victoria's Secret
I'm not a huge fan of Victoria's Secret, but they make my favorite flannel pajamas. They come in tons of patterns and colors, three different lengths, are soft and warm, and are completely affordable at $49.50 a set. They tend to go on sale after Christmas, so check back then for even better deals.
3. Long Jersey Bamboo Robe by Sandmaiden Sleepwear
This is basically the elegant version of a slanket and I love it. It's made of jersey sweater material by the always fabulous Sandmaiden Sleepwear. Sandmaiden makes to order, so just provide your measurements at checkout and you'll end up with a custom robe!
4. PJ Lace Racerback Top by Bravissimo
Sometimes you want to lounge around with more support, which is where these Bravissimo hidden support tops come in. They go up to an H cup and have built in wire free support. I know lots of women who swear by these, and they tend to sell out quickly. Pair them with your favorite pajama pants or jeans and a sweater for daytime comfort.
5. Vintage 1950s Dramatic Teal Dressing Gown Robe Trimmed with Feathers by Fab Gabs Vintage
Everyone needs some drama in their life, and this teal feathered robe is just too perfect to pass up. You can find lots of reproductions of this style, but it's rare to find an original and even rarer to find one in this color. Pick it up and have fun indulging your inner glamour girl.
What's your personal loungewear style? Which pieces on this list do you love?