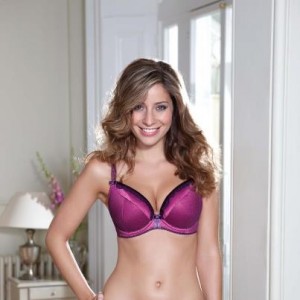 I suppose this is technically a preview, since this bra won't be released until Monday. However, I was so excited about it that I couldn't resist putting it up this week. I also know that it sold out fast last year, so you might want to put it on your shopping list. This seems to be the same style as the Satine bras that I reviewed and loved, which means it's definitely worth adding to your collection. Also, no one can ever have enough pink lingerie.
Bravissimo will be selling both a bikini and a short to go with it, which is great for those of us who are thong-avoiders. I'll definitely be picking this up Monday, and I can't wait to see what the rest of the winter collection looks like!
If you're lucky, the old coral colorway is on sale in some very limited sizes as well.