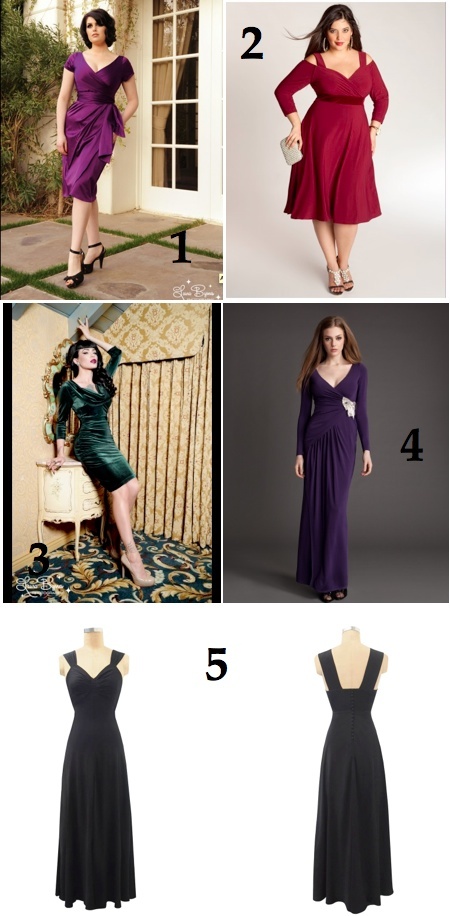 Yesterday I published a piece on The Lingerie Addict about gorgeous full bust friendly shapewear, so I felt like the week wouldn't be complete with the companion article on formal party dresses.
Party dresses that work for full busted women can be tough to find, and going through dress after unflattering dress in a department store can make you want to give up fast. Luckily, the internet has lots of great options for us. I have a few quick rules for dresses that I follow when I'm looking for a great fancy dress:
a) The perfect formal dress shouldn't require a strapless bra.
b) A great formal dress shows off your cleavage without turning you into a cartoon or making you feel self-conscious.
c) Since most people don't have a ton of formal events to go to each year, the dress you buy should be classic and work with lots of different accessories and purses.
d) When in doubt, go for dresses made out of comfy stretch fabrics.
All of these dresses meet my requirements and cover lots of different styles, body types, and occasions.
1. Ava Dress in Plum by Pinup Girl Clothing
I own this dress in teal and love everything about it. It isn't as boob friendly as some Pinup Girl clothing is, but pair it with a good plunge bra and you'll be good to go. It's flattering, wearable, and a nice nod to traditional kimono shapes. If you have trouble with the sash, check out this helpful YouTube video!
2. Siren Plus Size Dress in Burmese Ruby by Igigi
I love the look of off the shoulder dresses, but I hate strapless bras. This dress gives you the look while letting you stay comfortable in your favorite bra. The velvet waistband is a nice luxe touch, and the skirt is flattering to almost every figure.
3. Film Noir Dress in Green Velvet by Pinup Girl Clothing
This dress is inspired by classic film stars and is one of my holiday favorites. It's one of the few dresses that my mother has asked me to wear on multiple occasions, which makes it both flattering and family appropriate. It comes in several colors and is great for colder weather. Go down a size for a sexier fit or follow the size chart to the letter for a flattering but looser fit. Either way, you can't go wrong.
4. Long Marilyn Dress by Alice by Temperley
This dress gives you all the comfort of jersey with the look of satin. It has glitz while remaining classic, and features the ever flattering faux wrap dress style. Even better, it comes in purple or black.
5. Constance Dress by Trashy Diva
Trashy Diva makes fabulous dresses, but the back detail is really what takes this from plain black dress to showstopper. Check out all of the amazing covered buttons! This is the perfect dress to pair with sky high heels and an intricately beaded clutch.
Which dresses on this list do you love? What are you planning on wearing to all of your holiday parties?