I wrote about Urkye in this designer interview, but it's taken some time for my first order to show up. I've been waiting eagerly for my clothes since I've heard such great things about this brand, and I'm desperately in need of more casual clothes. I tried both a long sleeved shirt (the Dzwonek) and a 3/4 length sleeve dress in a gorgeous orange color (the Kieska). I was really excited when the postman showed up on Friday with my package! I managed to snap some quick pictures yesterday, since I've gotten lots of questions about Urkye and what the clothing is actually like. Please excuse the slightly wonky hair — it just wasn't working for me yesterday.
The Dzwonek: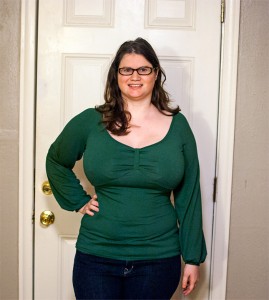 This top is a 42o/oo, but Ula assured me that it would fit. She was right! It's made out of a light jersey material, which flows nicely but also creates a great shape for the shirt. It's hard to find this color green, so I'd love to see Urkye make more than just one shirt in it.
This shirt feels very open up top, although not in terms of cleavage. It's strange to feel like you're showing a lot of collarbone, but I did the first time I put it on. Now that I've worn it out to run some errands, I can see it being my go to casual shirt. I'd also like to try it with some skirts for meetings and other slightly dressier occasions. The sleeves are fun and flattering without feeling full on Ren Faire, and the top is even slightly slimming. It doesn't really get cold enough for me to stock up on long sleeved shirts, but I'll definitely be back for the shorter sleeve version of this (and maybe even another long sleeved one since it's just so pretty). I haven't washed it yet, but I'll come back and update the review once I do.
The Kieska: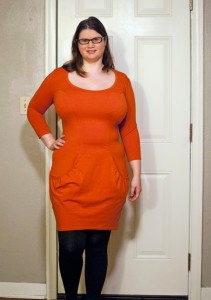 This dress is a 42oo/ooo, so one bust size bigger than the shirt. Lots of people have been ordering this dress lately, so I've been seeing tons of pictures of it on other people. I know for some people it has been hit or miss, but I love it on me.  When I pulled it out of the box, it looked huge. However, once I put it on I fell in love with it. The pockets are a fun detail, and the princess seams help create a slimming look. The sleeves also make your arms look tiny, which is a bonus in my book. This color is perfect for this time of year, and I can see wearing it lots of different ways. Urkye has a short sleeved version as well, which I will be stocking up on for the summer.
The material in this dress isn't as thick as some jersey or knit fabrics, so I don't think it will keep you warm during a snowstorm. However, it's great to layer with tights or scarves for some extra warmth. I also think it would look great with boots, although I don't own any right now to test it with.
My entire order came to just over $60, which is a pretty amazing price for pretty clothing that fits. I will definitely be ordering from Urkye again as soon as they restock and recommend it to anyone else who is on the fence about trying a new clothing company.