The full busted clothing landscape has really picked up in the last year or so, but I'm excited about Urkye today since they present something genuinely missing from the market. Lots of full bust clothing companies focus on fancy dresses and fun pieces, but Urkye makes youthful casual clothing in comfortable (and washable!) fabrics. I was lucky enough to get to talk to Ula last week about the vision for her brand and her early successes in reaching a new part of the market. As a side note, this is yet another company based out of Poland that caters to full busted women worldwide! One of these days someone will do a study about why Polish companies are so ahead of everyone else. 
Holly: What motivated you to start Urkye?
Ula: I  have bigger bust than standard and I had a lot of problems with finding clothes in high street shops. Fortunately my mum tought me how to sew, then I learnt on my own how to construct clothes and finally I was able to sew clothes for myself that fit perfectly over bigger boobs and still underline waist. I noticed that I'm not alone with this problem and that shops that offer clothes for women with bigger boobs are quite expensive for polish girls or offer clothes that do not fulfill their style. My husband – Wojtek – who is an economist, noticed that creating our own brand could be an excellent adventure 🙂 I love sewing and constructing, my husband knows how to run companies, so possibility of creating clothes for wider range of women was so thrilling that we couldn't resist it 🙂
Holly:  How is Urkye different in style from other clothing companies for busty women?
Ula: We're young and we sew what we like. We don't follow trends in 100%, we always try to give something else, something what describes our style. Our clothes are sewn from the best quality materials by polish sewing company. Our clothes are unique, they're not produced in huge quantities.
Our clothes are sewn in 3 (or 2) bust sizes for each waist size. What is also quite interesting about our clothes is a fact, that we also add more room around hips.
Holly: What age range is Urkye popular with?
Ula: We noticed that our clothes are generally popular with young woman and girls. But not only – we receive feedback also from older woman who are delighted with our styles 🙂 So there is no rule – I believe that it depends more on character and personal style, not only on age 🙂
Holly: What have your most popular pieces been so far?
Ula: Definatelly Kieska dress. For Summer we had version with puffed sleeves, now we've prepared for our customers version with 3/4 sleeves. This style, due to pockets and french seam, can create an excellent proportions on each type of figure – and our customers love such magic! 🙂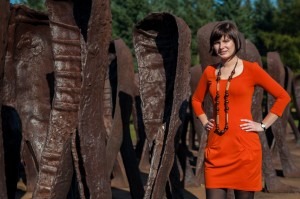 Holly: What kinds of pieces are you planning to add to the Urkye line in the future?
Ula: Generally we're still young company and we haven't sewn all styles that we want to sew. Now we're working on shirts and blazers, we have several new ideas for tops and dresses. We want to add coats, but rather it would happen within next year.  We're also thinking of sewing maternity and nursing clothes for women with bigger boobs, because we know how hard it is to find nice fitting clothes for women in this special time. Finally, we're also planning to sew dresses for women who have bigger difference between hips and waist.
But to be frank – we have no idea when we'll be able to implement all these styles to our shop. But we're optimistic and we believe that it'll happen soon. Time will tell :))
Have you tried out any Urkye clothing yet? Which piece is your favorite?