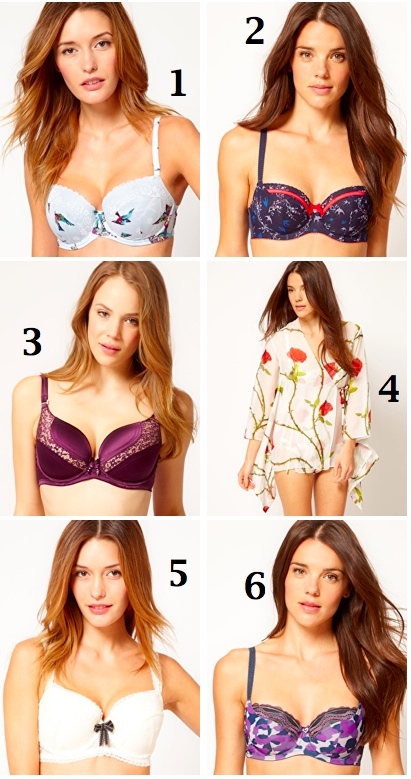 ASOS contacted me a few days ago about writing a post about their lingerie selections, which was actually pretty neat. I've bought several bras (and more than several dresses) from ASOS and always had a good experiences there, and I've mixed lots of their pieces into previous blog features. However, I realized I hadn't done a piece on their D through J lingerie options!
While I'm a huge supporter of small brands and boutiques, the international nature of ASOS allows them to stock lots of stuff before other smaller boutiques and lets them showcase brands that don't normally make it over to the states (I love you, Evollove and Pleasure State!). I bought my Meg bra from there when I tried it because they were one of the first retailers to carry it. Sadly, it didn't fit — which is why you haven't seen a review here.
A note about buying bras in larger cup sizes on ASOS: if there's something that you really want, buy it quickly and buy several possible sizes. By the time I returned my Meg bra several days after I received it, all of my other possible sizes were sold out.
ASOS also offers free shipping and free returns, which gives you license to have fun and try stuff you wouldn't otherwise.  It's also a great way to access international brands without the crippling return postage if a bra doesn't fit. Their H-K options are more limited, but if you're in the D-G line then ASOS is your lingerie playground.
Without further ado, these are my six favorite pieces on ASOS right now:
1. Bird Song Contour Balconette Bra by Evollove
Evollove is the newest Bendon brand, who also own Elle Macpherson Intimates and now Pleasure State. While Elle Macpherson is readily available in the US, ASOS is the only retailer I know of who offers the other two brands stateside. I've had a crush on this Bird Song bra ever since the promotional photos came out. Snap if you're a D-G cup!
2. Meg Balconette Bra by Cleo
This is the bra that got away. I ordered a 32J, and for once in my life found myself swimming in it. By the time I returned it, the 32HH was gone. It's a gorgeous bra and Cleo remains one of my favorite brands, but it sadly wasn't meant to be. This is a great buy, but do be prepared to try multiple sizes to get the best fit.
3. Polarize Plunge Contour Bra by Pleasure State
I'm going to be honest — I'm a Pleasure State fan girl. Their offerings are always beautiful and inventive. Even better, they don't dumb their designs down for their DD-G line. Were I to drop several cup sizes, this is the first brand I would buy one of everything from. It's hard to find plunge bras that are this gorgeous and have this much detail. Bravo to ASOS for bringing this brand to customers worldwide.
4. Juliette Chiffon Satin Kimono by Dirty Pretty Things
I love robes, but kimono style robes are my weakness. They're also flattering on a wide variety of body types, and this Juliette Kimono is another great one to pick up. Dirty Pretty Things is definitely a luxury brand, but the current sale may help you justify the splurge.
5. Swan Lake Balconette Contour Bra by Pleasure State
I took ballet for years, and this bra embodies the quiet feminine strength of ballerinas perfectly. I don't dance anymore, but I'd happily wear this while watching videos of Gelsey Kirkland and pretending to be her.
6. Natasha Balconette Bra by Cleo
I'm not always a fan of the whole animal print trend, but this bra is cute and colorful enough to make me get over it. It's on sale now, so it is an extra great deal if your size is still there.
Have you bought lingerie through ASOS? What was your experience? Let me know in the comments!