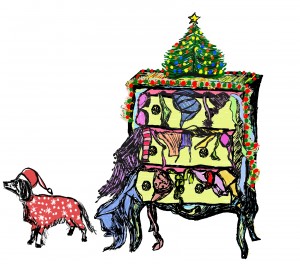 I love Christmas, but this year I've joined the crowd that is ignoring it until Thanksgiving is past. That said, if you're a lingerie retailer you know that planning ahead is crucial to helping you survive the holiday season profitably and with your sanity intact. I don't do tons of advertising for my copywriting services on the blog, but today I wanted to put up a quick post about some of my most popular offerings that can take a ton of holiday marketing stress off your plate.
Product Descriptions: Retailers frequently add lots of new products around the holidays,  but each product has to have a description. Lots of retailers use what the manufacturer gives them, but the Google Panda update is now down ranking websites with what they see as "copied" content. Make your customers and the Google crawler happy with some original (and professional) product descriptions that increase your sales and your website ranking!
Newsletters: Newsletters are a great way to generate extra sales around the holidays, but they take time to write. I can create a newsletter that gets results while showing off the personality behind your brand. In the meantime, you can get back to doing…well, whatever you want to be doing!
Gift Guides and Ghost Blogs: Blogs and gift guides seem like the easy part of holiday  marketing, but they can become a huge time suck. They can also sap your creativity, or take you away from helping customers in your physical store. Leave it to the professionals (yours truly) and make an appointment with me to talk about ghost blog content and gift guides. I'm the secret mastermind behind lingerie blogs large and small all over the world, and can create content that you and your customers will love.
To find out more or to make an appointment to get on my schedule, email me at holly@thefullfiguredchest.com!
If you are planning way ahead and want help for the holidays and for Valentine's Day, check out my option for discounts through retainer packages here.
To see what my clients have to say, go here.