Trashy Diva is one of the stores that I always check out on my visits to the French Quarter, although I've never gotten up the nerve to try their dresses. On the surface, they don't look like they would be full bust friendly. Luckily, a combination of their huge sale this week (it goes until Thursday so don't miss out!) and someone to advise me on sizing meant that I got up the courage to try again via the internet. Thank goodness I did, because these dresses are great!
You've probably seen other fashion bloggers raving about Trashy Diva dresses, but here's the short version: Trashy Diva is a New Orleans based boutique that focuses on classic style that verge on vintage reproductions. They sell in lots of boutiques, have two boutiques of their own in NOLA, and have great internet service.
I'm going to talk about each of the dresses individually but here are some tips if you want to try some for yourself:
1) The rayon dresses have virtually no stretch, so take the size charts seriously.
2) If you're in doubt, call and ask your question. Everyone I dealt with was friendly and helpful, and didn't seem to think me asking a bunch of questions about whether my breasts would fit into their dresses was awkward at all.
3) These dresses need to be dry cleaned (no handwashing allowed), so you can't cheat and wash them like you can with some PUG dresses. If you hate dry cleaning, these may not be for you.
4) Even though the Sadie dresses aren't very revealing, the cut of the V-neck means you will probably need a plunge bra with them if you're in the H+ cup range. I'm wearing a Curvy Kate Angel bra with the Paradise dress, for reference.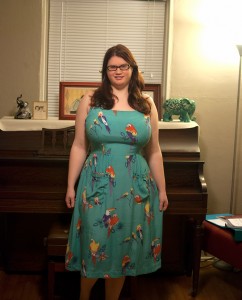 This dress felt a little ironic, as it's 29 degrees here this week and I've spent most of it in furry slippers freezing my butt off. I wanted a tropical dress for an upcoming beach holiday, and this felt perfect. I love the pocket details, and it highlights my waist beautifully. I'm actually hiding the one major flaw with my hair: my bra straps show! I don't have a problem with that, and will just end up buying a short sleeved shrug to cover them. I suspect I will get lots of wear out of this during hot summers here. In terms of size, the chart says this only goes up to a 42.5 inch bust measurement, but I'm at 43.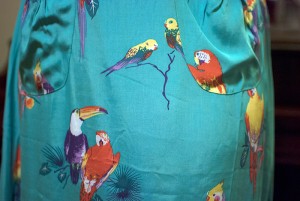 I love that the print is tropical without being as literal as a tiki print. The birds and the color combination makes this an unusual and beautiful print dress.
Sadie Ruffle Dress in Mardi Gras Print, Size 14: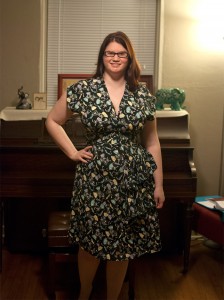 These two dresses are the same shape in two different prints. The 14 was listed as my exact measurements and fits like a glove! You can't tell in this picture, but the details on these dresses are incredible. Vintage-style rhinestone buttons add some great sparkle to the front of the dress, and the belt matches the dress pattern perfectly. While I love my Pinup Girl Clothing dresses, I'm not always impressed with the quality of the belts that are included with some dresses. This belt is heavy duty, has lots of holes to fit various body types and will hold up. Given the climate that I live in, this dress is basically seasonless. I'll wear it in winter with black tights and a cardigan and in the summer as is.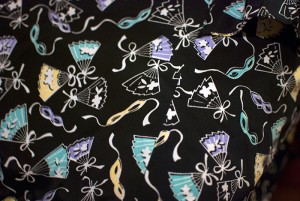 I love the festive feel of this and how NOLA it is, all while not being too loud. The pastel colors are lovely against the black background, and the pattern is busy without being overwhelming.
Sadie Ruffle Dress in Slap and Tickle Print: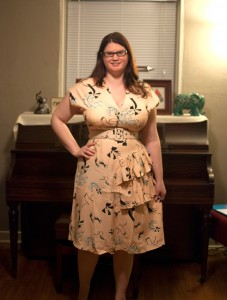 I haven't purchased a pink dress ever in my adult life, but I loved this print so much I couldn't resist. It's flirty and feels retro in a cool way rather than a musty one. This dress, despite being the same cut and size as the Mardi Gras print one, felt like it was slightly bigger on me. You can see the ruffles on the hip better on this one, I think. Again, with a black cardigan and black tights this will work perfectly for all seasons for me.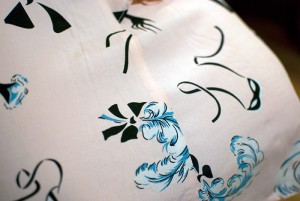 This print has a slightly racy sense of fun while still being subtle enough to wear out to basically any occasion. It would be perfect for a night out at a french inspired restaurant, but I'm going to see if I can get away with it at work stuff too.
If you want to take advantage of the amazing Trashy Diva sale on currently, just use the code sale20 at checkout until 12/14. The code only works on sale items, but there is a fairly wide range left in lots of prints!