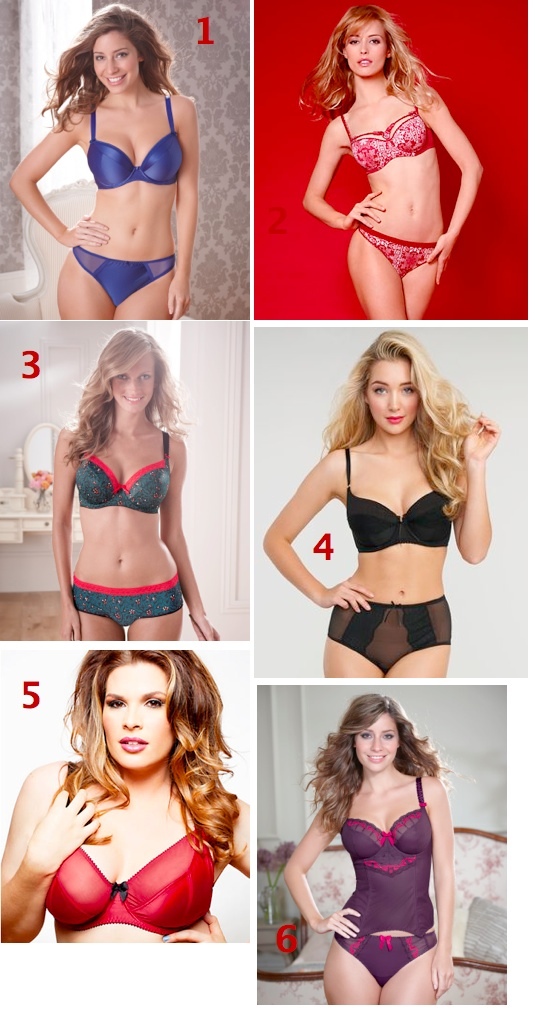 It's hard to go wrong with a great bra and panty set as a gift, so today we're featuring all of the best holiday themed ones. The best bras, for me, are the ones that are sexy enough to feel special but still comfortable enough to wear under a ratty t-shirt while you lounge around the house. It's easy to get overwhelmed by all the holiday stuff, so I also like to lean towards subtle nods towards the season rather than full out santa suit territory. After all, if you fall in love with a bra you want to wear it for more than a month!
Here are the six best full busted bra picks for Holiday 2012!
1. Satine Bra by Bravissimo
This bra is fabulous in any color, but this blue is a nice nod to winter without being too seasonal. The satin also gives it a luxe feel while adding soft comfort that make you want to sleep in it. Pair it with the matching panties for a basic set that feels special and luxurious while still being completely wearable.
2. Snowglobe Balcony Underwire Bra and Thong by Marlies Dekkers
Okay, so I'm willing to make an exception to my rule for things like this that are totally cheesy/sexy and know it. This set is sort of insane, while also being insanely cute. If you really love Christmas (or are buying for someone who does) this is the right gift. I feel like a santa hat must be tucked into the same box for the full effect.
3. Ivy Bra by Freya
I've seen lots of people saying that they've picked this up in the last few days! I think in part it's due to the season and in part it's due to the reliability of Freya bras. They're easy to find your size in while also being easy to find online or in person. This version goes up to a J cup, but the adorable longline version is great too if you're a G cup or below.
4. Gigi Underwired Bra and Retro Deep Shorty by Midnight Grace
If I could have one wish for the new year, it would be for Figleaves to expand the size range of their Midnight Grace line. The bras are great quality and the range focuses on trendy basics. This classic black set is a perfect example of everything they are doing right, and a great gift for someone who has everything. This bra goes up to a G cup.
5. Paramour Bra and Thong by Claudette
This bra checks a lot of the boxes on my list of what makes a piece of lingerie a good gift: classic with sex appeal, a seasonal color that isn't too restrictive along with a big dash of comfort. Claudette continues to churn out amazing bras, which makes me more and more excited for their size range expansion. This set will be a hit with anyone.
6. Lola Luxe Basque by Bravissimo
While not technically a bra, this basque fits like your most comfortable every day bra and can be worn under lots of things for an extra confidence boost. It also goes up to a K cup, which makes it a great piece for women who don't normally have access to items like basques. I own one, and it's absolutely worth the price tag.
Which items do you love the most? What have I missed? Let me know in the comments.