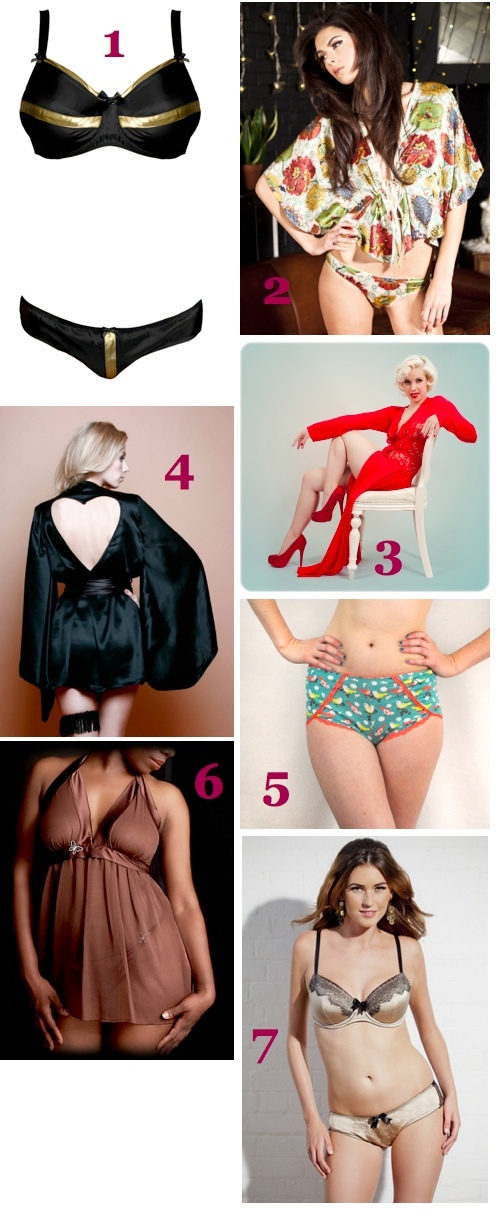 It's no secret that I have a thing about indie designers. When you buy from an indie designer, your item is made with care by someone who has a real passion for what they do. You are also supporting small businesses and their hardworking owners, which I'm also a big fan of.
The indie lingerie market has expanded very quickly, and lots of designers have expanded their size ranges this year. Several indie bra companies that cater to full busted women have popped up in the last few years, and now Bijte is making sexy lingerie staples for full busted women as well. Whether you're in the market for a full set of luxury lingerie or just fun stocking stuffers, this guide has it all.
1. The Ali Bra and Knicker Set by Louise Ferdinand Lingerie
Louise Ferdinand Lingerie makes gorgeous bras out of luxurious materials in hard to find sizes. Her band sizes start at 28, and this particular bra goes all the way up to a J cup. This makes her lingerie a perfect gift for someone who struggles finding rare bra sizes and wants a dash of glamour in their life. I'm not a huge fan of holiday lingerie that is overly literally (if it is red velvet with white fur, count me out), but this set is a lovely nod to the festive time of year without being too over the top.
2. The Carla Bed Jacket and Knicker Set by Ayten Gasson
Bras are great, but sometimes you just want something pretty to lounge in. I love Ayten's bed jackets, and they make a great gift for the lingerie lover who has everything. This liberty print set makes a one of a kind gift for someone who loves beauty and comfort.
3. The Nell Robe by Betty Blue's Loungerie
There are lots of robes in this world, but let's face it — lots of robes are pretty plain and uninspiring. Holiday lingerie gifts frequently focus on comfort over sex appeal, but this Nell Robe is a nice combination of the two. The jersey fabric will show off curves while remaining soft and comfortable, and the peek-a-boo lace detail gives this piece a nice dash of vintage inspired sex appeal.
4. Sophia Kimono Robe by La Lilouche
This is another great basic robe with a sexy surprise touch. The silk is thick and luxurious, and the rest of the robe is basic enough to lounge around the house in or slip on after a shower. If you're looking for a gift that isn't as size specific as a bra and panty set, this is perfect.
5. Bird print Tap Panties by Knickerocker
Knickerocker has brought out a bunch of new stuff right before the holidays, but this is my favorite of the bunch. Tap style panties are always flattering, and these have great vintage details but are made from comfortable materials that will hold up to every day wear. If you're looking for an adorable stocking stuffer, look no further.
6. Silk Chiffon and Charmeuse Halter Babydoll by Bijte
Bijte is making sexy and supportive pieces that work up to a J cup, but this babydoll is my favorite of the bunch. Bijte pieces are not sized by bra size, so contact them to make sure that you're buying the proper size for you. Their amazing suport system works for a range of sizes and actually creates great uplift while making you feel secure.
7. Stargazing Set by Beaujais
This is another luxe set from a great British full bust lingerie company. If you're buying for someone who loves matching sets and glamour, this is what you should look at. The set comes with a balconette bra, two sets of knickers, and a garter belt.
Which items are you wishing for? Are there any great indie lingerie pieces that I've missed?