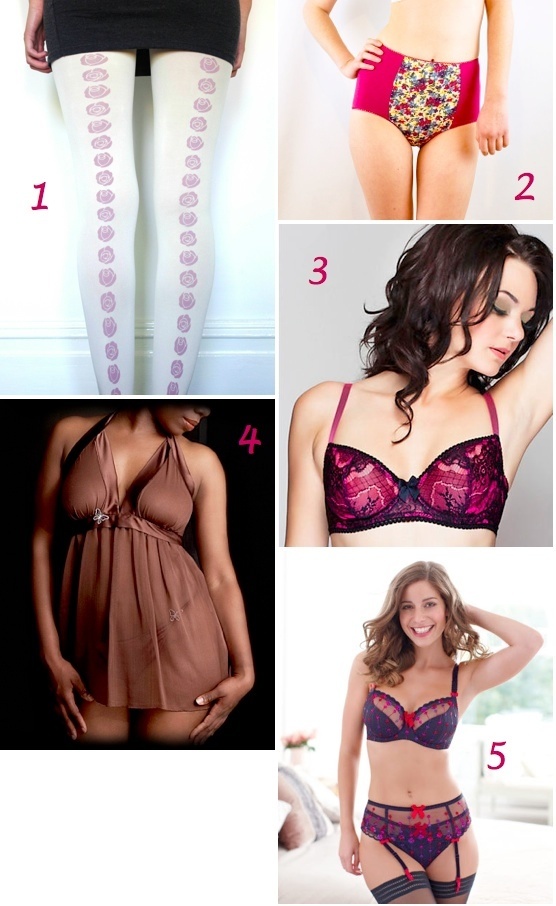 1. Cream Rose Tights by Hose Tights: Hose Tights makes stunningly simple and original tights, and their holiday pieces have been note perfect for me. I featured their reindeer tights before Christmas, but these rose print tights are a perfect nod to Valentine's Day without all the fuss.
2. Floral Print Underwear by Knickerocker: I've been so busy working with Knickerocker on her wholesale line that I've lost track of the new stuff in her Etsy shop recently! This new pair of underwear is one of my favorites. They're a sweet acknowledgement of Valentine's Day that is also wearable year-round.
3. En Dentelle Underwire Bra by Claudette: Every time I see another new bra by Claudette I drool, and then tell myself that they are trying to expand their sizes and that I should be patient. If you are in their current size range (A-G cup) this En Dentelle bra is an easy sell. It's lacy yet edgy, which can be a hard combination to pull off. If you're looking for something different this Valentine's Day, this is the perfect set to pick up.
4. Silk Chiffon and Charmeuse Babydoll by Bijte: Bloggers have been raving about Bijte for one big reason – this is the same gorgeous lingerie that everyone else gets, and it's a revelation. Bijte has ditched the wires that make you feel like you're being supported like the Eiffel Tower, and devised a support system that actually works with silk, chiffon, and charmeuse all the way up to a J cup or so. These babydolls are girly classics that will make your lingerie loving heart sing. This one comes in chocolate brown, aqua blue, or a soft peach pink.
5. Darling Heart Set by Bravissimo: Once again, Bravissimo reigns supreme as the champion of the HH+ cup woman. This gorgeous Valentine's Day set is available up to a K cup and in a 28 band. I love the navy blue base as an alternative to red, and the heart embroidery that makes the set ladylike instead of childish.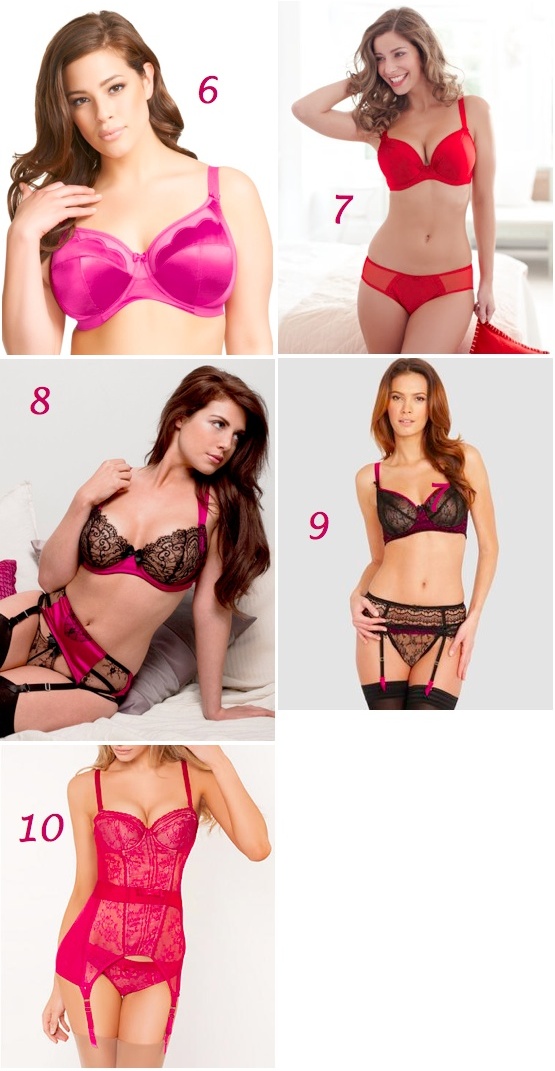 6. Rita Banded Bra By Elomi: Elomi is finally making bras that look like Huit bras! While this  makes my head spin, it also makes me really happy for plus size full busted women, because it's not like there's a ton of choice out there in that category right now. This cotton candy pink Rita bra is the perfect example of how to produce great bras for this part of the market.
7. Satine Bra by Bravissimo: It's hard to go wrong with a classic red plunge bra for Valentine's Day, and the Satine is one of the best out there right now. It's soft, satiny, and disappears under even the most low cut dress. It's full of useful sex appeal – which is the best kind when you're investing money in good bras.
8. Sorbet Sweet Nothings Set by Beaujais: Sets like this make me wish that Beaujais would  expand their size range! This set is gorgeous and the ultimate Valentine's Day splurge: it includes a bra, two different panties, a garter belt and a matching eyemask. This set goes up to a GG cup in UK sizes.
9. Bisou Bisou Kiss Bra by Mimi Holliday: Mimi Holliday has another gorgeous take on red satin and sheer black lace with this set. The beauty in this set is in the details – the various laces and shapes that work with each other and the subtle layered colors.
10. Ooh La La Corsetlette by Gossard: This corset is a red lace classic and has been selling like crazy for Gossard. It's retro and sexy while providing more coverage than a regular bra and panty set, which makes it a great for those of you looking for something different. If you want to channel your inner vintage starlet, this is the set to pick.
Are you picking anything new up for Valentine's Day? Have you tried any of the items on this list?