Normally when shopping for bras, I immediately go for the push-up section.  As someone who doesn't have too much to work with and envies those with natural curves and fuller chests, I'm always looking for ways to enhance what I have.  Admittedly, besides my sports bras, I'd say about 98% of what I own has some amount of push-up padding in it. However, on my most recent trip to Bare Essentials, I was reminded that sometimes all you need is a good fitting bra to show off what you have. Normally, I avoid trying things on whenever possible, but on this day I pulled about fifteen different bras and tried every single one on. Ladies, finding the perfect bra is no joke, but it's totally worth it when you start growing your collection of well-fitting garments, and feel confident in your shape.
Normally, I wear a 28D, but I've found with different brands that there are slight differences in the fit.  I tried a couple from b.tempt'd, they didn't carry a 28D, so I tried both the 30C and the 30D.  The C cup was definitely too small, from the front it didn't look too bad, but if you saw the side view there was some really awkward looking spillage.  Not a cute look. Luckily, all the ones I tried in the 30D fit perfectly.
This nude option, Celebration Push Up Bra (I know, I know, I couldn't not try on a push-up…But read on, I eventually came around) I really loved, because of the wide band.  Even though finding a ton of support isn't always my main concern, I still prefer the feeling of being all strapped in as opposed to a flimsier band with only one clasp in the back.  I also loved that it was firm enough without digging into my skin, instead I was left with a seamless line that wouldn't be noticeable even under the tightest t-shirts.
If you're looking for something with a little less structure, the Ciao Bella Balconette Bra was really cute, and super comfortable.  It wouldn't be my first pick for creating the ideal shape for my chest, but the soft cup design didn't feel restricting at all.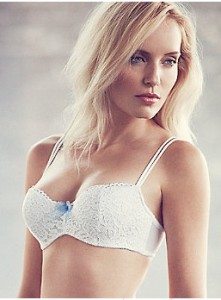 Although I loved the Celebration Push-Up, I knew I had to branch outside my wonderfully padded comfort zone, and I ended up purchasing a Freya piece.  The company goes up to a K cup, but they cater beautifully to small busted women as well.  With the Deco Honey Iris Molded Plunge Bra, I loved that I still got full coverage, but the deep plunge neck line also worked well with low cut tops.   At first I thought the 28 band was bordering on being too tight, but the woman who worked at the boutique advised me to stick with it since Freya bands tend to stretch easier than others.  What I loved the most about this bra was that even though it wasn't a push-up, it still lifted my chest up, but not necessarily pushing them together. Really, it did a better job of creating shape and lift than my older bras that were basically all padding. Overall the added perkiness looked natural and most importantly it felt comfortable, like everything was right where it was supposed to be.
One of the biggest differences between a well-fitting bra and those that aren't: The first full day I wore it, I wasn't constantly adjusting, shifting, and moving things around.  After all, there's a big difference between how a bra feels in the fitting room, and how it feels when you're being active all day.  Although smaller busted women don't always struggle with finding proper support, I've always had issues with the bra either fitting right in the cups but shifting around my body, or fitting firmly around my body but the cups were too small.  Finally starting to shop at the right places, and discovering brands that value a good fit instead of a good sale has been the most important change I've made in shopping.
After I got home, I tried it on under some different types of tops, and from t-shirts to bustiers, it seems to work with it all! I especially loved the result when paired with my previous Bare Essential purchase–I mean the fact that I could get this lift without a push-up? And I was comfortable? I was sold.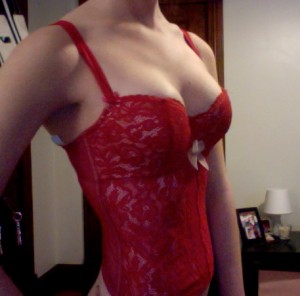 What's your favorite confidence-boosting purchase? Have you struggled with any of the same issues as me? Comment away!