Collectif has been on my rader for awhile, but it took this amazingly unique fairy tale inspired print to get me to take a chance and make an order. Lots of other bloggers swear by their dresses, but they tend to focus on prints which I tend to avoid. I was feeling brave after my Trashy Diva experience, so I decided to go for broke and try a print dress from a new company and place an overseas order.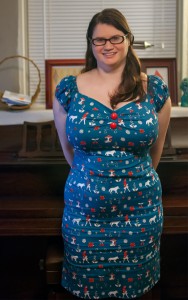 This dress originally came in two versions: a wiggle and a swing dress. They sold like crazy, so by the time I got to it only the wiggle was being restocked. I'm still on the fence when it comes to swing dresses and me, so I'm glad I ended up with this version in the end. Shipping was about two weeks from the UK, but it looked like some US based retailers were carrying this as well under different names.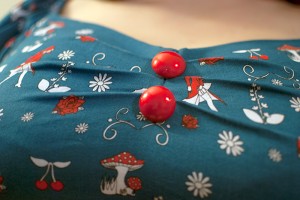 As you can see in my shot and the promo shot, I feel like the color of this dress is hard to photograph. It's a bright teal rather than a true blue, which really makes the red button detail and the print stand out. It's adorable and fun, but not for wallflowers!
I had heard from fellow bloggers that the Dolores dress shape was generous in the bust, which turned out to be an understatement. I ordered a UK 14, but now feel like I could have gone down to a UK 12 (which is a 10 in US sizes). The material is comfortable and summerweight, but also works well with tights and a cardigan over it. I've actually gotten away with this at a few meetings that way, despite Red Ridinghood having garters!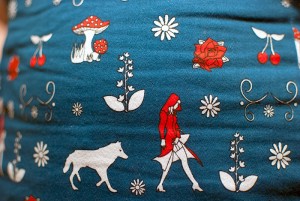 The sleeves are elasticized, which would be great if you want to wear them off the shoulder. Unfortunately, for me this just leads to them slipping around slightly and showing my bra straps if I'm not keeping an eye on things. It's not a huge problem, and I've already worn the dress lots in spite of it.
The great news is that Collectif makes lots of dresses in this cut, so if you fall in love with them there are lots of options. The bad news is that this particular dress is sold out almost everywhere, so if you want this print you'll have to hunt for it. There are some size 10's left on the Collectif website, and some of the swing dress version left at Modcloth. I suspect that smaller retailers have some as well, so check the internet and the Facebook pages of any vintage reproduction retailers that you follow.
I love the dress, and I'll definitely be buying from Collectif again if they come out with more offbeat prints like this in the future. I'm hoping that since this sold out so quickly, there will be more fairy tale inspired clothing on the way!