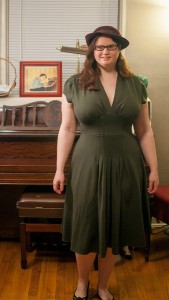 I have to confess that I have a tendency to buy things in batches, especially if a sale is involved. This means that I managed to acquire lots of Trashy Diva dresses in the past sale, so there will be several more reviews coming soon if you're liking this series.
There was a sale on non-sale merchandise, so I gave in and picked up this gorgeous Jenny Dress that I've had my eye on for ages. I wanted to see how the stretch knit pieces by Trashy Diva compared with their other offerings and if they were equally flattering on a full busted figure.
Due to the stretch fabric, they do run larger, so this is a 12. While I love it and have worn it lots, I might be tempted to try a 10 the next time! These dresses have lots of stretch, so sizing down is definitely recommended even for us bustier women. As you can see in this photo, the bust section is loose enough that it occasionally slips when I sit down and needs readjustment. This isn't a big deal at all, but does make me wonder about going down two sizes next time.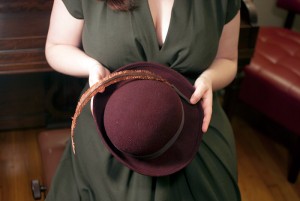 I love this traditional dress shape which is incredibly hard to find these days! It's such a classic and clean look, and this works perfectly for a night out or for work. I've paired it here with a gorgeous hat I picked up at a local antique store that seems to be made to go with it. This may seem like just enough stretch knit dress on the surface, but the details are what make it worth the price tag. The sleeves are just slightly puffy, the skirt is pleated to give it extra shape, the stomach is paneled to hide any flaws, and the bust is draped to add flattering support. The neckline is also perfect on me, which is hard to find in a v-neck dress. I will definitely be picking up another one later this year — I just have to decide if I want to go for this dress in another color or the long sleeved version.
The knit fabric is incredibly soft and surprisingly thick. This helps the dress keep the perfect shape it gives you, but also means that I'll get wear out of it year round here rather than just in the summer. I feel like the dress is begging for one of those vintage pins, but I've found a treble clef one that may be perfect with it (as you can tell from the background, I'm kind of a music geek).
Have you tried this dress? What do you think of Trashy Diva in general? Let me know in the comments!