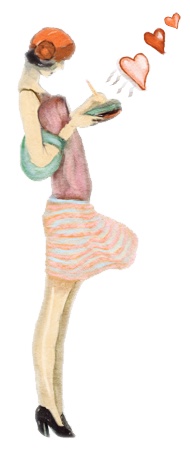 Some retailers are already seeing Valentine's Day sales and some of you are just getting prepared, but either way I'm here to make your life easier with some Valentine's Day copywriting schedules. I can fix up your website to make Google and your clients like you more, or just put together that gift guide series that you've been dreading.
My most popular offering around this time of year is gift guides, so if you think you're interested let me know! I'm trying to get people on the schedule early so I'm not working 19 hour days during the first week of February. I've also done gift guides for brands that I'm a fan of in the past, so if you're interested in that please go ahead and reach out to me over email as well.
To make your life a little easier, I'm offering some Valentine's Day related specials:
Product Descriptions: Retailers frequently add lots of new products around the holidays,  but each product has to have a description. Lots of retailers use what the manufacturer gives them, but the Google Panda update is now down ranking websites with what they see as "copied" content. Make your customers and the Google crawler happy with some original (and professional) product descriptions that increase your sales and your website ranking!
Holiday Offer: 20% off any product description package (must include at least 15 descriptions)
Newsletters: Newsletters are a great way to generate extra sales around the holidays, but they take time to write. I can create a newsletter that gets results while showing off the personality behind your brand. In the meantime, you can get back to doing…well, whatever you want to be doing!
Holiday Offer: $99 per newsletter
Gift Guides and Ghost Blogs: Blogs and gift guides seem like the easy part of holiday  marketing, but they can become a huge time suck. They can also sap your creativity, or take you away from helping customers in your physical store. Leave it to the professionals (yours truly) and make an appointment with me to talk about ghost blog content and gift guides. I'm the secret mastermind behind lingerie blogs large and small all over the world, and can create content that you and your customers will love.
Holiday Offer: $50 per ghost blog and $150 per gift guide
To schedule your work in time for Valentine's Day or to talk about what a copywriter can do for you, please contact holly@thefullfiguredchest.com