One of the things I love the most about writing, and learning more about the lingerie industry is the opportunity to review! Parfait by Affinitas sent over the Charlotte Padded Bra and Brief set. First of all, I loved the peach color because it was a feminine neutral, and when accented with the black I was left with a perfectly vintage look.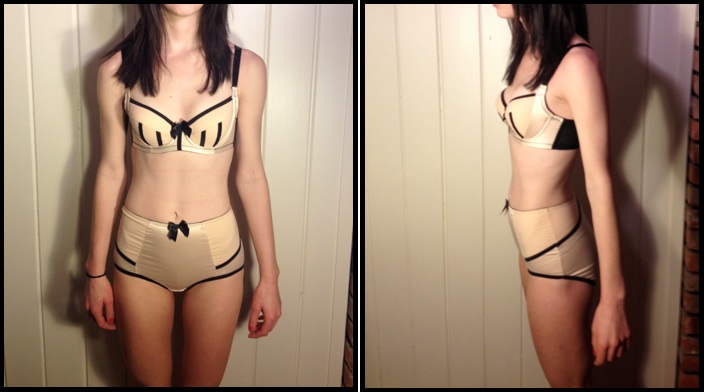 I ordered the size 30D which was the best fit for me. The band fit snugly on the first set of hooks, already giving it a long life span if it starts to stretch out over the years.  I'd also like to mention that the straps were thicker, so if you have a larger chest, that's also great for extra support.  The overall fit of the cups and the bra could not have been more perfect. You can see in the profile shot that the combination of the wide band and full coverage cups are just what you need for the best support system.  As a small busted girl, I definitely don't struggle with the support issue but as I've mentioned, I still like to have that feeling of having structure around your chest.
The bottoms, I have to admit I was a little skeptical of at first.  I love the high waisted look on other women, but since I was tragically born without any curves, I never though I'd be able to pull off the look. I was pleasantly surprised when I stepped back and saw the whole look together–the bottoms definitely helped give at least the illusion of a little more curve.  These are a size small, which was very true to fit. Especially with this style of bottoms you wouldn't want too big–no one likes a saggy butt! Everything was snug right where it was supposed to be with no weird bagginess in your rear or front. Also, the fabric was stretchy and really soft so I could definitely lounge around comfortably in these.
Final verdict? Couldn't be happier, both pieces were true to size, had a timeless color palette, and even turned me on to a new style I never thought I could wear. You know that feeling when someone gives you a really good hug and you just feel so happy and satisfied? That's exactly how I felt when putting this set on for the first time. The Cinderella Glass Slipper equivalent of a lingerie set 🙂
What about you guys? Have you ever had a change of heart on a specific style once you gave it a shot? Anyone else love Parfait by Affinitas as much as I do?