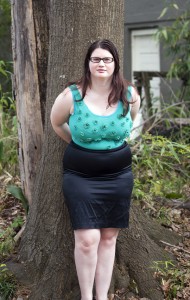 One of my goals this year was to do more reviews with pictures on this blog and as part of my columns. I'm one of those people who isn't a natural in front of a camera, so I'm forcing myself to learn to be more comfortable in pictures. Being me, my first real shot at it is in a very public venue – my column for The Lingerie Addict!
Whenever I don't want to take pictures (which is pretty much all the time) I think about how much I love seeing great clothes and lingerie on women with my body type and how few people there are covering this sort of thing. I'd love to think that my pictures helped make someone else feel like they could rock a bodysuit in public too.
Would you like to see more reviews of indie lingerie as outerwear pieces? Are there any that are at the top of your list? Let me know in the comments.