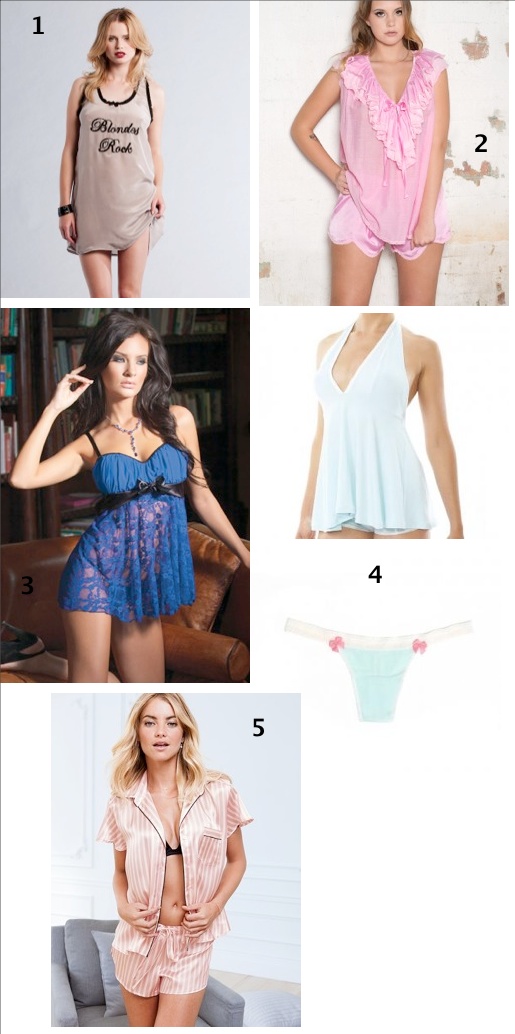 The weather has been pretty up and down here, but for a few days last week it finally got really hot. I'm one of those people who generally sleeps in a t-shirt and yoga pants, but I've vowed to make an effort to step it up this year. Last week I started by actually pulling out and sleeping in all of my pretty and high quality things, which really seemed to improve my state of mind as I dealt with an incredibly busy and stressful week. This list includes pieces I have and love, as well as pieces that I'd like to add to my collection. And while the title says these are for full busted women, they would all work well on pretty much anyone. Several of the pieces on this list are on sale right now, so pick them up at a cheaper price while you can!
1. Blondes/Brunettes Rock Silk Night Shirt by La Lilouche
This nightshirt comes in multiple colors, custom sizes and with either "Brunettes Rock" or "Blondes Rock" in handbeaded lettering. The one I own is lilac and is made of whisper soft silk crepe, which is lovely to sleep in when it's truly hot and humid. It also handwashes easily and dries quickly, which is important if you're lazy about handwashing like I am. Mine is a staple when summer hits and I don't want to feel like a wrung out washcloth in the heat.
2. BARBARA Pink Silk P.J Top and Shorts by La Lilouche
This set is outrageously girly and cute and I totally want it. It's the kind of cute that is comfortable and wearable as well, while still channeling the 70's ruffle thing. I suspect it would also be heavenly to sleep in! All of La Lilouche's pieces can be made to suit your exact measurements, which is great for those who have a dramatic different between their top and bottom sizes.
3. Sapphire Nights Babydoll at MyKarnation.com
This is not the kind of thing that ever shows up here, but it was sent to me by a super knowledgeable client and I've fallen in love with it. Part of what I love about it is that it's the kind of thing that other people always got to wear and I never did, but it really works for me! While the babydoll isn't underwire, it has depth built in that both covers your breasts and creates extra support. It's not a push up bra, but it looks great and feels wonderful. It's also super sexy and my favorite color, which never hurts.
4. Well Played Halter Babydoll and Thong by Between The Sheets
This halter top babydoll and thong are the stylish version of the ratty sleepshirt and underwear set. They're also both on sale right now, which makes them a steal. I love this light blue color and the soft bamboo material. If you're not wedded to the idea of wearing a bra when you sleep, this set is perfect.
5. Satin Boxer Pajama Set by Victoria's Secret
I have pretty mixed feelings about Victoria's Secret, but I unequivocally love their pajama sets. They're affordable, cute and stand up to ridiculous amounts of washing. This one comes in a whole range of patterns and colors to suit lots of different personalities.
What are your summer sleepwear staples?