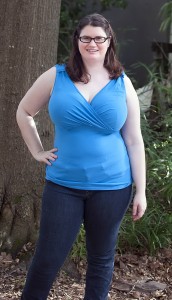 This is the second part of my Urkye review, so check out the Mala dress from earlier this week if you missed it!
I ordered two Tuba shirts from Urkye along with the Mala dress, even though I hardly wear separates anymore. I'm a fundamentally lazy person in the mornings and the idea of matching stuff is usually too much for my pre-coffee brain to manage. Dresses are easier and let me focus on other things when I feel like I have limited brain power. Now that I have these, I've actually found it easier to wear the few skirts I own which probably means I will go back and buy a few more colors.
Both of these shirts are size 42 oo/ooo (the specific colors can be found here and here) and run larger than the Mala dress. I wouldn't have sized down in terms of breast space, but I could have comfortably worn a 40 oo/ooo as well. If you like a tighter fit for your shirts, sizing down should work for you. Each shirt is only $18.28, which is ridiculous considering the superb fit and the good quality fabric. This means that Urkye is not only a full bust friendly brand, it's a nice budget brand too if you're US or UK based.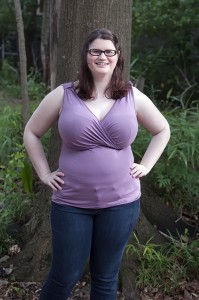 As you can tell, the belt loops and things under the shirt still show but the fabric is thick enough that my dark purple bra doesn't show in either picture. The shirts are made of a thin but sturdy fabric, which will be wonderful here during the summer. I suspect that they will work throughout the year with a sweater over them as well, at least if you live in a warmer climate. They are also much longer than I expected, which is great for extra coverage if you're moving around lots. This also makes them ideal for taller women.
I'm wearing a plunge bra in these pictures, which I think will be needed to make these shirts work. The neckline on the Tuba shirts is particularly nice – it's flattering and a little flirty while still remaining pretty modest. I'd definitely wear these with a knee length skirt to meetings. I didn't have any issues with my bra straps showing and the armholes were perfect.
These images showed up recently on the Urkye Facebook page, which I hope means that a dress version of these tops will be coming soon! I'd absolutely buy one or two. At this point, Urkye is definitely my favorite casual clothing source and a great way to pick up some basic wardrobe staples.
For more reviews of the Tuba Top, go here:
Being Curvy
Boosaurus
Muscular Hourglass
Hourglassy