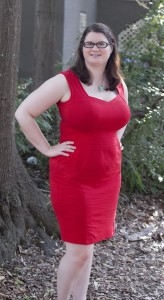 This Mala dress by Urkye has been making the blogging rounds lately for a good reason: it looks good on everyone. This dress is pretty much my fashion kryptonite – it's casual, washable, bright red and great for hot weather. My Kieska dress by Urkye is one of my favorite dresses, but I can't deal with the thought of sleeves in this southern summer weather.
I ordered this dress in a 42 oo/ooo, which is what I think of as my standard size in Urkye clothing. I also included some tuba tops from Urkye in the same order, which felt a little different in terms of sizing. I'll show some comparison photos later this week when I review them separately. The 42 oo/ooo felt like a good fit, although I know some people have gone up or down a size according to how tight or loose they like their dresses. This picture is taken with no shapewear/smoothing underwear, to give you a sense of how the dress really fits without too many extra tricks. Since it's about 90 degrees here, I'm less likely to bother with that kind of thing until October anyway.
This dress is a bright cherry color in person, which is both loud and lovely. The bold color is balanced out by the flattering yet plain cut of the dress, allowing it to be a wardrobe staple. I wore it with a teal colored necklace for the holiday yesterday, but it could also be made to look super professional for meetings. I suspect that it could even work throughout the year with a sweater over it!
If you're a fan of the Kieska dress, be aware that this is a slightly different fabric. It's a little thinner, but still stretches nicely. The cut of the dress works with any bra and covers all bra straps beautifully. As always with Urkye, the armholes are cut perfectly and don't even a tiny bit of my bra! I've gotten a ridiculous amount of wash and wears out of my Kieska without even a tiny pill on the fabric, so I'm hoping that this dress will wear just as well over time. This is a high quality dress, despite the relatively small price tag (under $50).
For more reviews of the Mala dress, check out:
Obsessed With Breasts
Hourglassy
A Sophisticated Pair
What do you think of the Mala dress? Have you tried Urkye yet?