Now that the weather has finally gotten lovely, I'm trying to catch up on my back log of dress reviews. Predictably  this means you're going to be seeing lots of Trashy Diva dresses around here for the next few weeks. While this Dixie Dress pattern is discontinued, it's really a warmup for my quest to acquire this dress which is part of the current offerings:
I love this print and I will have this print. In the meantime, I'm throughly pleased with my slightly more subdued take on the Dixie. It's the perfect summertime work dresses and it fits my figure perfectly, although it highlights different parts of my figure than the Sadie dresses do. Here's some comparison shots: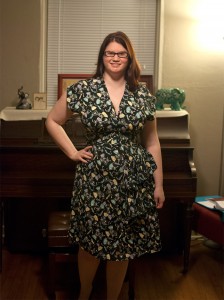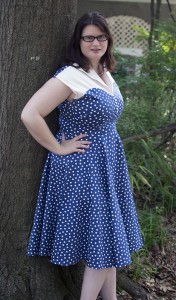 I haven't changed size since the Sadie picture was taken, but as you can see they produce different (although equally nice) silhouettes. The Sadie focuses on my relatively tiny underbust, while this dress is nearly an empire waist on me so focuses more on my stomach and upper chest. Oddly enough I'm a big fan of the Dixie as a work dress over the Sadie, as it focuses less on my boobs and more on the rest of my body. I love that it's high cut and has a nice long skirt, so I don't have to worry about managing my cleavage or about how much leg I'm showing when I sit down (have I mentioned that I'm an eternally awkward person in real life yet?).
This is a 14, which seems to be my standa