Since fashion and self-expression go hand in hand, I thought I'd talk about one of my favorite influences in popular culture: Georges Méliès and his brilliant early science fiction films. If you're not familiar with Méliès, the new recolored version of "A Trip To The Moon" is a great place to start. The newest version also comes with an amazing soundtrack by Air. This film was made in 1902 and basically invented the science fiction film as we know it. If you haven't seen it before, grab a cup of coffee and take a look at when you have 15 minutes free. For another interesting look at Méliès later in life check out the movie Hugo.
While Méliès was a pioneer in terms of film making and science fiction, "A Trip To the Moon" also stands up as an extremely fun and fashionable piece of history. I saw this newer recolored version recently and it really grabbed my imagination in terms of fashion and personal style. Steampunk stuff is really popular these days, but Méliès isn't really steampunk the way we think of it despite the fact that he was heavily influenced by Jules Verne. I actually think there's a lot of Méliès style stuff that is easily worked into every day life, so today I've put together a list of some of my favorites.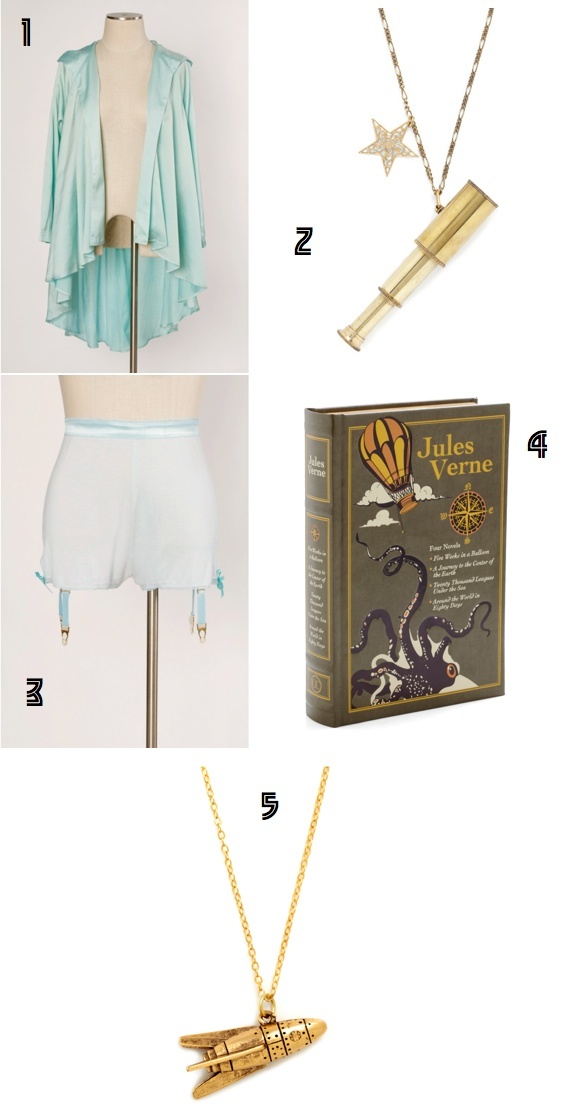 1. Summer Cloak by She and Reverie
I love the ethereal feel that She and Reverie has and this summer cloak is the perfect Méliès style look. It's practically the female version of the cloaks that the astronomers use as blankets while they sleep. It's also one of those pieces that works over everything, from dresses to jeans.
2. "In the Distance" Necklace at Modcloth
The only thing that makes this necklace better is that it's actually a miniature working telescope! It's a great way to add a nod to this kind of style without building a whole outfit around it.
3. Garter Shorts in fragonard blue by She and Reverie
Every Méliès film has a chorus of adorable girls dressed in stylish stuff. These lingerie/loungewear shorts are the perfect modern interpretation of their nautical style outfits.
4. Collected Works of Jules Verne at Modcloth
Jules Verne and Méliès go hand in hand – in fact, this film was directly inspired by Verne's "From the Earth to the Moon". While I'm a huge fan of books in electronic form these days, I love this look of this collection of Verne's work.
5. "Having A Blast Off" Necklace at Modcloth
While it won't take you to the moon and back, it's definitely a cute way to inject some early science fiction fun into your wardrobe.