I've been waiting to put this review up for awhile, since I actually bought this dress before it was available on the Trashy Diva site. This dress was a hit from the moment it appeared in the boutiques and was heavily discussed on the Desperately Seeking Trashy Diva group on Facebook, so I went out on a limb when I exchanged my Anchor Dress (which was a total full bust fail on me) for this gorgeous one. Trashy Diva's new summer line features lots of gorgeous embroidery and sweet girly colors, which I love but don't wear much of. I don't wear a ton of pastels and I've never owned a yellow dress in my life. I'm glad I took the plunge because I've fallen in love with this dress and have already worn it several times since I got it. I'm sorry for my funky face in the picture, but it was really sunny out!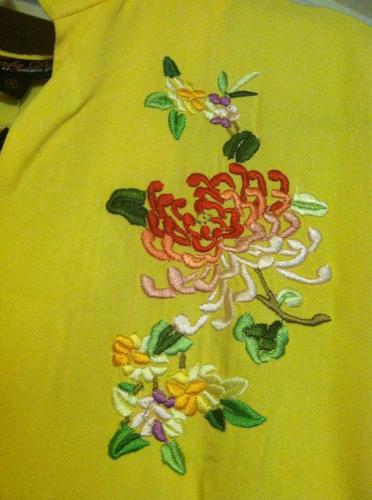 I've tried to photograph this dress several times with varying levels of success. The true color is the extremely buttery yellow in the first picture rather than this more gold version. However, the embroidery is what makes this dress special, so I thought it was worth taking a close up shot of it.
I got this dress in my normal size 14 after calling the Magazine Street store to ask about sizing. They were really helpful and recommended this dress as the most boob friendly of their summer line. The top of the dress is based on their Lillian cut, while the skirt is an incredibly full circle skirt. I didn't appreciate how huge it was until I went to iron it before I wore it for the first time. It even has pockets, which I love. I have plenty of room in the chest in this dress and it fits my waist perfectly. I love how it helps make make look extremely hourglassy while disguising other areas that I don't love as much.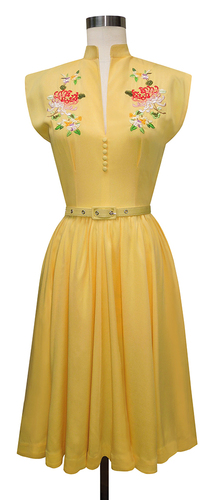 I love the heavyweight rayon fabric that Trashy Diva dresses use since I live in a hot climate, but as a result you do have to be careful what color underwear you wear under this dress. Either white or nude underwear disappears under it, but it does mean I need to occasionally plan ahead if I'm going to wear it. I also have to wear a plunge bra with this dress, even though it doesn't show any cleavage.
I've worn this dress to multiple meetings now, but you could also easily dress it up for a night out. It's the perfect all around useful summer dress. I adore the simplicity of the color and cut with a small splash of special detailing – it fits my style which tends to be more solid color and classic. If you love the idea of this dress but want something bolder, make sure to check out the Del Rio: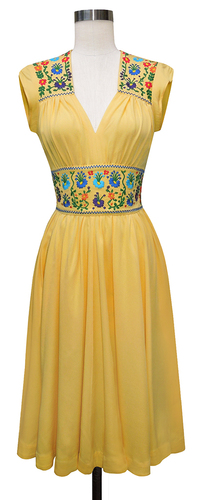 If you're looking for a special yet all purpose summer dress, you can't go wrong with the Maria Dress!