It's no secret that I'm a Trashy Diva superfan. I love their full bust friendly options, their consistently interesting and loveable patterns as well as the incredibly flattering cuts of their dresses. I've done a series of dress reviews of various Trashy Diva options, but I've also gotten lots of requests for a comprehensive resource post on which of their dress shapes are the best for full busted women Since Trashy Diva tends to recycle dress shapes, this list should be helpful now and in the future. If you're one of those that has been asking, here you go! If you want to come hang out with other crazy Trashy Diva fans, just look for the Desperately Seeking Trashy Diva group on Facebook. If you want to look up more specific reviews, just check out the Trashy Diva section on the resources page.
A note for plus size women: Trashy Diva has been talking about expanding their plus size offerings for the future, so keep an eye on the website for more 18+ size options. They know they have a market there that is underserved, so keep checking the website.
A Complete List of Full Bust Friendly Trashy Diva Dresses (in mostly alphabetical order):
The Audrey Mini Dress:
This dress is a very basic 60's shape, but is universally flattering. The belt really highlights the waist nicely and the dress is easy to wear a regular bra with.
The Audrey Pencil Dress:
This is the perfect sheath dress for pretty much everyone, but it falls extra nicely if you're full busted. There aren't any weird underbust seams to contend with, which is an added bonus. This is a great basic dress for work.
The Bonita Dress:
The crossover bust styles at Trashy Diva tend to be less boob friendly, but this Bonita dress is gorgeous and works even for me at a J cup. If you're under an H cup you'll have plenty of room, so don't forget to check this dress out.
The Bustle Betty Dress:
This dress has a ton of boob room and the higher cut neckline means that you can wear any bra that you want with it. It's not the sexiest option that Trashy Diva offers, but it's a great dress for work or more buttoned up occasions.
The Constance Dress:
This dress shouldn't be full bust friendly according to the size chart, but when I tried it on in the store I took my regular size! Women with small shoulders may have to get the straps shortened and the bustiest may experience some bra show, but this dress is well worth a try. The back button detail is fabulous and it can be worn for a formal event or with a denim jacket.
The Courtney Coat Dress: This can be worn as either a dress or a coat, which makes it more budget friendly than some other options.

The Dixie Dress:
This dress is one of my absolute favorites. Thick stretch cotton hides all your lumps and bumps and keeps your comfortable while the contrast sleeves and neck allow you to wear whatever bra you want. If you want more waist definition (and really, who doesn't?) throw a contrasting belt on with this dress.

The Dorothy Dress:
This dress is stretchy, so feel free to go down a size or even two. Some people report having issues with their bra straps and the dress straps hitting in the same place, but this dress looks amazing on full busted women.

The Dottie Dress:
This dress will require either a strapless or a halter top bra, which can be limiting. However, those who have one report that it looks great on full busted women and is really comfortable.

The Hopscotch Dress:
This dress looks pretty buttoned up from the front, but features a sassy cutout in back. The cutout is designed to work with a regular bra, so go ahead and indulge your love of backless dresses with none of the hassle.
The Jitterbug Dress:
This dress is a new shape for Trashy Diva and is designed to be flexible and comfortable for swing dancers. The waistline makes it surprisingly flattering, while the top ruching and elastic sleeves work for a wide range of body types (and allow for extra inches in the bust department).

The Lillian Dress:
This dress has the same top as the Maria Dress, which creates a nice v-neckline without showing any cleavage. Plunge bras work best with this type of dress.

Knit Dresses (Jenny, Mansfield, Lorelei):
These dresses are all incredibly full bust friendly but also insanely stretchy. Order down one size or even two.
The Liz Dress:
I completely bypassed this dress on the website and finally was handed it in the store. It may now be my favorite formal Trashy Diva Dress. It's the perfect knee length, the skirt puffs gently and the top creates the most amazing tasteful yet fabulous cleavage. Do go up a size for your chest, but don't worry about the waist being too baggy due to the stiffer material and the belt. Most report this dress runs a tad small, but I found it perfect in a size up from my usual. The belt is detachable and can be worn with the bow front or back.
The Maria Dress:
This dress is a version of the Lillian with a huge circle skirt.

The Mini Ballerina Dress:
This dress is an Old Hollywood classic! The v-neck doesn't show much cleavage but does create a great shape. Hits above the knee on most people, even on short women like me.

The Sadie and Sadie Ruffle Dresses
This cut of the Sadie dresses are perfect for full busted women and almost always fit like a glove. Colors and patterns fit slightly differently due to materials, but all are great choices.

The Trixie Sarong, Playsuit and Mini Dress:
This is a great halter dress for those of you who own a convertible bra. This dress comes in a huge variety of patterns and colors and is extremely flattering.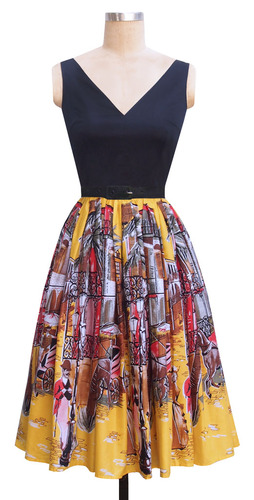 The Walk in the Park Dress:
This dress is the same cut as the Ballerina, with the addition of a skirt featuring the French Quarter in the Victorian era. Same boob friendly cut with tons of character.
The Vargas Dress:
This dress is the same skirt as the Trixie with a slightly layered sweetheart shaped halter neck. I absolutely love both dresses, so this is mostly a matter of picking your dream fabric/color. Both this dress and the Trixie have elasticated side panels that help the dresses fit like they were made for you. Buy these in multiples to help you survive the summer along with the Trixie Minis.
The Victorian Mini:
This is my absolute dream dress and I am determined to get it one day. It's a similar cut to the Ballerina, with some steampunk attitude and silk velvet thrown in. Note: this fabric runs much smaller than it's cotton fabric cousins and may not work for those who need more give.
Full Bust Friendly Trashy Diva Dresses That May Need Alterations:

The 40's Dress:
This dress comes out in multiple colors and patterns each year and is a Trashy Diva staple. Most people love them and they are great for busty women if you're willing to put in some pinning/alterations. Many women find that the neckline is flattering but too low. This is easy to fix by having it sewn a little higher by yourself or a tailor.
The Obi Dress:
The Obi dress is super flattering and lovely, but many women find that they have excess fabric at the neckline. This leads to much more cleavage exposure than one might like, but can be fixed by having it sewn up. Another popular fix is to have the keyholes at the shoulders sewn together for a similar effect.
Moto Studs Dress (and other shape variants):
This dress gave me the best hourglass shape a dress has in a long time, but had bra showing under the arm. I suspect this could be fixed if you had a good tailor with not much effort. If I can grab one on sale, I may make the attempt and report back. That said, this dress is positively foxy and should not be overlooked by curvy women.
The Sweetie Dress:
This dress is one of my favorites, but I did have to have it altered. To get the lovely authentically blousy effect, you may have to go up a size. While the belt makes this fine in the waist, it does mean that the shoulders sit slightly off the shoulder instead of on top. This then throws the sleeves off. I ended up having the shoulders shortened by a tailor, which made this into one of my all time favorite dresses.