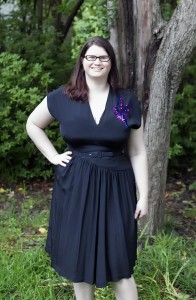 As you all know, I'm a huge fan of Trashy Diva. I also like to tell Trashy Diva newcomers to start with the sale items so they can explore their favorite boob friendly styles for cheap. Today I'm going to be reviewing The Olivia Bird Dress (which is in the sale) and giving you a list of great sale options to start with. All sale clothing is an extra 25% off as of yesterday, so snap up a dress while you can! If you're new to Trashy Diva, this is a great time to take the plunge. All dresses on this list are in the $60 to $100 range for the silks.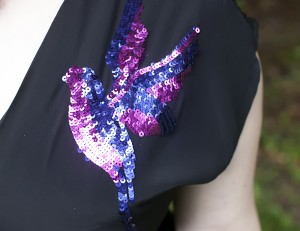 I've actually had this dress since December, so I feel bad that it's taken me this long to review it. I bought it because I loved the style and the sparkly bird, but wasn't sure how much wear I would get out of it. It turns out that it has become favorite dress when I'm going out somewhere nice, due to the luxurious silk fabric and sparkly details. Depending on what shoes and jewelry you pair with this, it can become an incredibly dressy option or a nice dinner out option. The light silk makes it great for hot weather, but I wore it to several symphony performances this winter as well.
This dress is based on the Sadie, which always gives me a great shape. They make your waist look tiny and your whole body look hourglassy. I do have to wear a plunge bra under this – I've found that the Bravissimo Satines work the best with these dresses.
The Best Trashy Diva Dresses on Sale for Full Busted Women Are: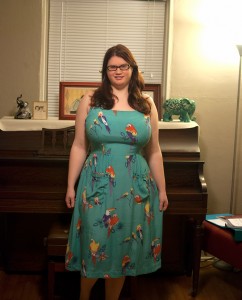 I've reviewed this dress before, but there are still some in the sale! This is the perfect summer dress and works beautifully with a sweater over it when you're going in and out of air conditioned buildings. I'm technically over the bust measurement for this dress and it fits fine, so there's some wiggle room with sizing.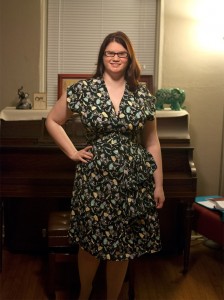 I have two of these dresses in rayon and I wear them at least once a week. They work for meetings or for going out. If there were any more left in prints that I didn't have I would have snapped them up! The sizing on this print runs tighter than some of the other prints, so I wouldn't try to go much over the listed measurements.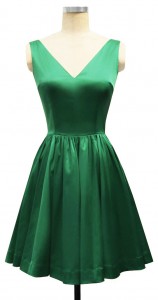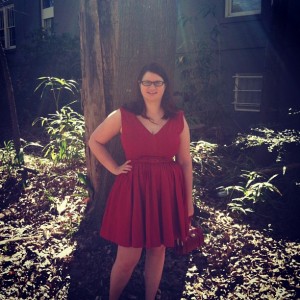 I have one of these in red cotton and it's my favorite day dress of all. Sadly, the only picture I have of it is this semi-terrible iphone photo! If you're looking for a great all purpose cocktail or bridesmaid dress, this version is lovely. The Ballerina dress hits me just above the knee) and is cut perfectly if you're full busted.
The Obi Dress, both long and short:

Several different versions of the Obi Dress are in the sale, in both long and short lengths as well as rayon and silk. These dresses are gorgeous for evening and are incredibly comfortable. I have the long version pictured below. They also have a ton of room in the bust – probably more than you will need, to be honest. Some people have issues with the neckline being too low cut, but I've dealt with this by tacking it together. Others have dealt with it successfully long term by having their tailor shorten the shoulders or sew the keyhole cutouts together. This issue shouldn't put you off the dress, especially at these prices.
This is the least boob friendly dress on this list, but still worth buying. I try to avoid the crossover bust cuts of Trashy Diva, but this one works for me for a slightly more cleavage heavy night out. If you're under a J/K cup, you won't have any problems with this dress. This version is silk and part of the amazing Sacred Heart print collection. The skirt is a huge tiered circle skirt that falls beautifully and is perfect for hot weather. This is my go to dress when I'm having an evening meal outdoors.
This is basically the same dress as the Olivia Bird in a different color silk and with a different sequined design. Predictably, I picked this one up in the sale. The heavy silk de chine that Trashy Diva uses is lovely and at $106 it's a steal. I suspect this will be one of the first sale items to sell out.
The Audrey Pencil Dress in Black Velvet:

This dress is one of those classic cuts that never goes out of style. I picked this up in the sale and am so sad that I have to wait until fall/winter to wear it. I have a gold vintage jewelry set and gold vintage shoes that are going to look killer with this. This dress is very full bust friendly and easily incorporates a 10 inch or more difference between your bust and your waist. Trashy Diva uses an extra luxurious silk velvet blend, so this dress is definitely worth picking up at the $57 sale price.