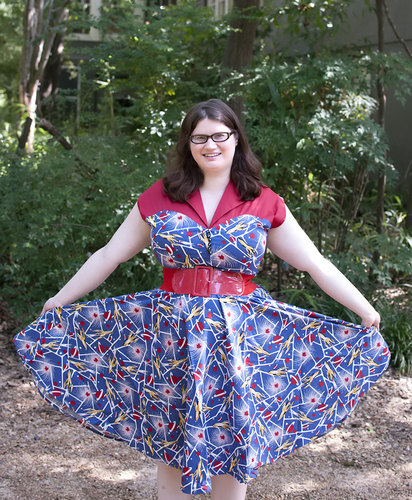 I reviewed a Dixie Dress in an older pattern a few months ago and I honestly wasn't planning to review this one when I picked it up on sale. However, having worn it several times and gotten tons of compliments on it, I think it's worth a solo review. There are just a few left in the sale in sizes 2 and 14, so if this looks like your dream dress I'd go grab one right away.
My other reason for reviewing this dress is that the fabrics in my two Dixie Dresses are totally different. The fabric in my polka dot Dixie is a heavy thick cotton, while this dress is made of a super light summertime stretch cotton. I love this crazy busy retro rockets print as well as the red collar and shoulders on the dress.
Per usual, there is a ton of boob room in this dress. It fits my 32J/34HH chest just fine and would even fit someone with more extreme measurements. This is my usual Trashy Diva size 14 and it fits like a dream.
Having seen this picture and the picture from my original Dixie review, I've figured out that I heavily prefer wearing this style of dress with a belt. Trashy Diva provides self fabric belts with lots of their dresses, but I own so much red stuff that accessorizing this dress was a breeze.
This dress definitely isn't for wallflowers, but if you love retro prints you'll wear this dress to death. Pick it up in the sale if you're one of the lucky leftover sizes!