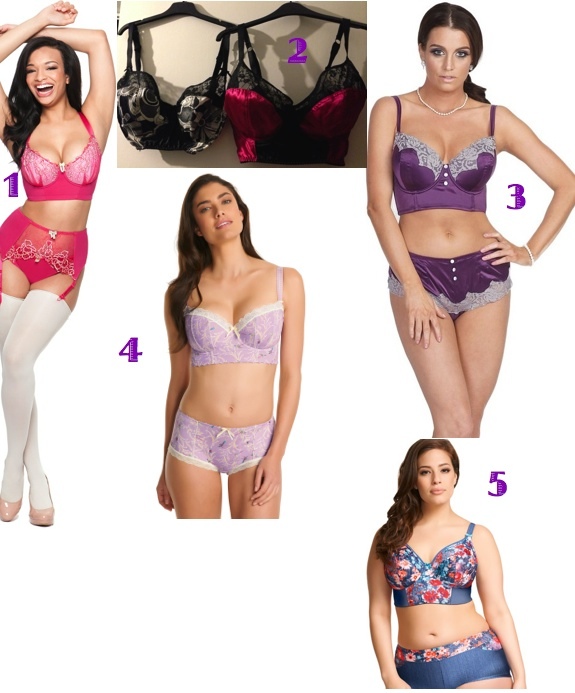 I've fallen completely in love with all of the gorgeous lingerie with a retro twist that has come out lately, so I'm happy to finally be able to do a feature on longline bras for D through K cups. Longline bras have been available from the big brands for awhile now, but none of them went above a G cup. With Curvy Kate introducing a J cup version in 2014, the new Roxy longline that goes up to an H cup and the new offerings from Edwards & Millers, there will finally be a longline out there for almost everyone. I'm hoping that if the new K cup offerings by Parfait by Affinitas goes well that they'll also consider adding expanded longline sizes to their range, but only time and sales figures will tell us that.
Read on to find out about all of the best longlines that are out now, as well as some new ones that we can expect to see within a year or so. Which ones are you most excited about?
1. Carmen Rose Mix by Curvy Kate
Availability: Spring/Summer 2014
I love the unexpected hot pink and lime combination, which isn't surprising considering that Curvy Kate are masters of putting together clashing colors that really work. The early reports say that this bra will be available up to a J cup, so I'm cautiously hopeful that it will follow their unpadded sizing rather than their Showgirl style sizing.
2. Longline Bra Samples by Edwards & Millers
Availability: Unknown
Edwards & Millers is a brand new company catering to the full bust/small back size market (their largest band size will be 34 and their largest cup size will be a UK M!). The glimpses of their new offerings look like a lovely fusion of vintage and modern elements and patterns and will include babydolls, slips and longline bras. I suspect they'll be at a luxury or a closer to luxury price point, but I fully intend to splurge on something when they release their line! Make sure to sign up for their mailing list for exclusive offers and early news about the brand.
3. Danielle Bra by Parfait by Affinitas
Availability: Autumn/Winter 2013
I absolutely adore the color of this bra! I've heard nothing but praise for these longlines and really hope that they'll be next in the much anticipated Parfait by Affinitas size expansion. If you are currently a G cup or under, these high quality bras are currently the best deal on this list.
4. Just Flew In Longline Bra by Freya
Availability: Current
Freya was one of the first big companies to try the longline out and they've been selling like crazy for them. This lilac color is one of my favorites so far, especially when paired with the sweet yet sophisticated bird pattern. Again, if you're in the D – G range, this is currently a great buy.
5. Roxy Denim Longline Bra by Elomi
Availability: Current
I've gone ahead and special ordered this bra through the lovely Sophisticated Pair, so expect a review around the beginning of next month. I've fallen head over heels for Elomi bras and their Rita is now my most worn bra. I originally wasn't entirely sold on the denim look (although it's clearly in now as the Cherry Fling bra from Bravissimo shows), but I saw a picture of it on someone else and it was gorgeous that sold me on it. I'll report back once it gets here! The size range of this bra changed from when it was announced to when it was released, so it currently is available up to an H cup. I haven't seen many retailers stocking it, which makes me worry that it wasn't a popular option for this season.