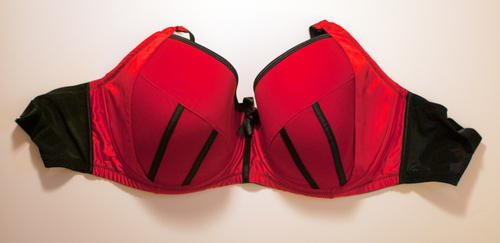 Awhile back Parfait by Affinitas surprised everyone with their announcement that they would be expanding parts of their line up to a K cup. The expanded parts of the line are now trickling out to customers, so I thought today would be a great time to review one of their offerings. Today I'll be talking about the Charlotte Bra, but I also have an Alexis babydoll coming which I'll review in the next few weeks. I bought this bra from A Sophisticated Pair through their super awesome pre-order system.
I had originally ordered this bra in my regular 34HH, but was advised by Erica to try a 34J instead as she thought the cups ran a little small. I'm getting the babydoll (which is unpadded) in a 34HH, so I'm interested in seeing how the sizing compares. This is a bra that I've loved the look of for a long time, so I was really excited to try it in my real size!
As you can see, this bra is gorgeous. A bonus is that it is incredibly sturdy and the materials are great, which kind of makes it a steal at $38. The downside is that while the bra itself is lovely, this bra and my boobs aren't the best fit for each other. In general if bras like the Curvy Kate Showgirl series work for you, I think this bra will be right up your alley. I have very full on top breasts which are also very dense, so I'm having the same problem I do in the Tutti Rogue bras – my boobs are wrestling with the bra and winning. The more open cut certainly doesn't help with this. Having seen pictures of other bloggers wearing this bra, I'm pretty sure that my full on top theory is right. If you have breasts that are fuller on the bottom then this bra will be perfect for you.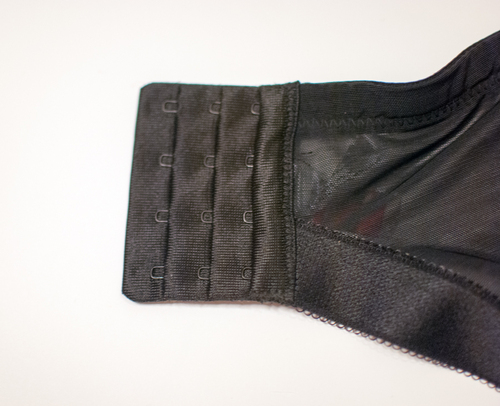 There are some interesting features on this bra that are worth noting if you're thinking about purchasing one. This bra has four hooks, which is great for helping you feel secure and helping the band sit snugly.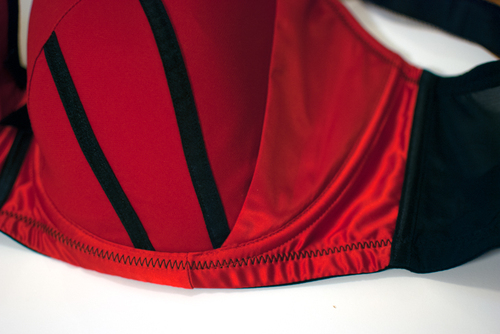 The side panels have a sort of satiny fabric lining them, which creates a sling-like support from the sides. I wasn't sold on it when I saw the bra in the box, but it works great when you put the bra on. It's a totally new sort of construction with lots of thought behind it, so double points to Parfait for actually doing a great redesign instead of just sticking some bigger cup sizes on some band sizes.
I think this bra is a great addition to the full bust market and is going to work for a lot of people who aren't me! I'll definitely be trying some more of the new offerings that will hopefully be shaped differently, so check back for more reviews in the future.
Have you tried the new Parfait by Affinitas line yet? What do think of this bra?