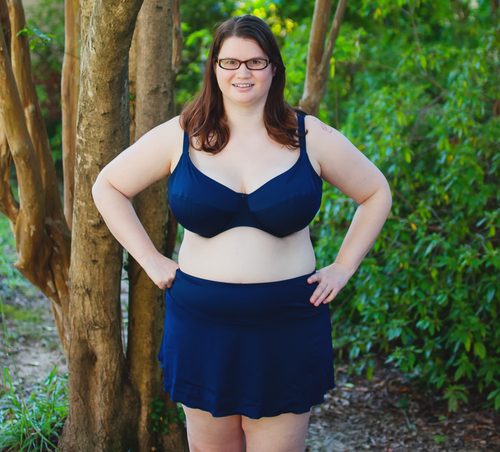 I've been swimming laps almost every day for exercise this summer since it's been way too hot to play tennis on a regular basis. In the beginning, I didn't know whether I'd get into it so I shoved myself into my well used and ill fitting Freya bikinis. Once I had worked up to 1000 meters a day, I was pretty sure I needed a better solution. I've ordered two more Freya suits, but since they're special order they haven't come yet. In the meantime, I needed a decent short term solution so I could swim laps in relative comfort.
Enter the HerRoom sale and the Elomi swimwear line – it was time to take the plunge. I'm not a fan of some of the giant floral patterns of doom that were used for the tankinis this season, but I've always loved the simple look of their swim bra and bottoms. Luckily the skirted bottom and the swim bra were on sale in navy blue, which I was much more excited about than black.
I had to sister size into the swim bra because Elomi doesn't make below a 36 band in swimwear – this swim bra is a 36H and the skirted bottoms are a size 12. You can see that the swim bra doesn't look quite as made for my body as the bras in my regular size do, but I was still pretty pleased with it. The back is only slightly looser than my regular bras and the slight wrinkling in the cups disappears once you get in the water.
I was nervous about buying this suit because all of the HerRoom reviews were from women in the 50+ age group. I've got nothing against 50+ age women, but I do like to look my age at the pool. Now that I've tried it I think this suit is actually a nice fuller coverage option for me, although I'm still not giving up my cute Freya bikinis full time for it. The material is really light and thinner than lots of swimsuit material, which made me skeptical about it's supportive properties. After testing this suit out for 1000 meters in the pool yesterday, all of my doubts are gone! This fabric has serious support and stays put through lots of vigorous lap swimming. While it wouldn't work for an olympic swimmer, it's fine for my daily exercise routine.
One final note: I don't feel right reviewing this suit without talking about the price of the Elomi swimwear line. I bought these two pieces on sale and they still totaled over $100. Fussy Busty has a great review here who points out that a three piece set of Elomi swimwear for 2013 is $230 at full price. In contrast, the most expensive Freya swimwear set runs about $112. Here's the problem – if you're beyond the gap sizes (US 10 – 16) or so, Elomi is really your best and only underwire swimsuit option. Price is a really difficult and subjective thing to talk about, but I do think it's worth pointing out in this case. That said, I felt like I got great value for my money so Elomi isn't skimping on the quality in any way.
Have you tried Elomi swimwear? Did you like it?