I hadn't thought about this post in the #diversityinlingerie context, but I suppose we're accidentally doing a theme this week. I'll be away from the blog for a few days, so I was thrilled to have the smart and savvy Wide Curves step in for me. 
There's been quite a bit of buzz lately about diversity in fashion – clothing and lingerie. While most of it has been centered around size, lately, the diversity buzz has begun to include age. There have been a few posts out there about lingerie for older women, speculating on what would fit the aging female figure. Also, there's been a call for older lingerie bloggers, for a rounded perspective on fit and style.
So, here I am. Older, and with perspective.
Basically, women want to look their best possible at any age. By the time we reach a certain age, we've developed a style that reflects how we want the world to see us, and we want to be able to continue that style as we age. I personally have no plans to graduate to powder blue, long-sleeved, shapeless flannel gowns trimmed in ribbon and lace. I'll take that silk chemise in cobalt blue, thank you very much!
What a maturing figure needs are stylish options. As we experience life (age, babies, illness…) we tend to go up a size or two. We usually keep our basic shape, just larger. So, a size 8-10 turns into a 12-14 or 16-18. What I feel is needed is more lingerie in the ignored sizes of XL/14-16, XXL/16-18, that aren't plus-sized, and are of equal quality and style as sizes XS-L.
So what's the difference between a "straight" (I dislike that term, by the way) size and a "plus" (I dislike that term, too) item? Generally, plus sized items are cut for women carrying size in specific areas where straight size women may not. And interestingly, if you cross over into plus sizes you may have more attractive, stylish selections because of the surge in specialty plus sized designers, along with brick and mortar retail stores.
What do I mean by ignored? Well, here are some quick stock numbers I pulled from a large online bra retailer:
There are 35% less bras to choose from moving from a 38FF U.K. to a 40FF U.K.
There are 53% less plunge bras to choose from moving from a 38F U.K. to 40F U.K.
Additionally, brands like Freya discontinue styles past 38 bands (except maternity), and Panache Superbra has a very limited selection of bras above a 38 band, reserving larger bands for the new Sculptresse label (which does not have a plunge bra).
This trend repeats itself even more in sleepwear, chemises, gowns and robes.
More to the point, once a woman enters the straight 14-18 size range, in-store options and online diminish. Most lingerie designers cease production around the 32 waist/42 hip range and retailers still refuse to stock many (if any) items over above these dimensions. You're sized out of designers you've worn for years, and you aren't plus-sized. In some cases, designers who manufacture both straight and plus sizes have gaps in their size charts between the largest straight size and smallest plus size – and you fit into neither. You're in a no-woman's land fashion desert.
I have found the most difficult thing about clothing a changing body is getting sized out of my favorite brands, and finding brands that are reflective of my style. Celebrating a birthday is an event I'd rather deal with by buying a larger size, perhaps changing shades or colors, and avoiding see-through mesh – not by changing my personal style to accommodate market availability.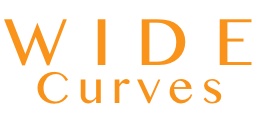 Hi there, I'm WideCurves! A forty-something chemise fanatic who started blogging as a way to record my attempts to find bras, lingerie and clothes that fit my changing body. You can read about my journey at www.widecurves.wordpress.com or follow me on Facebook or Twitter.