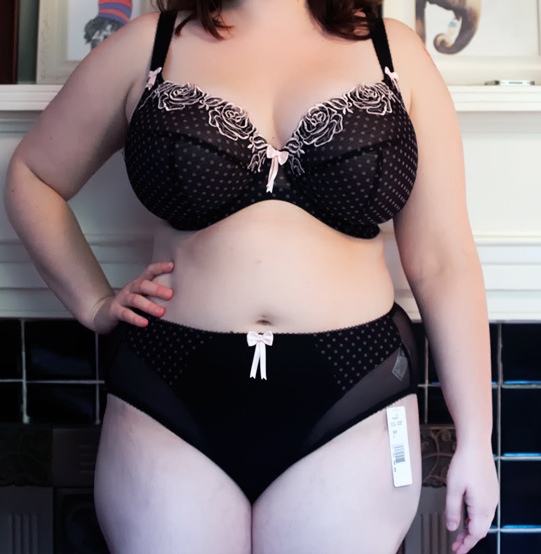 A few months ago, a lovely client (thank you Karnation Lingerie, you're the best) convinced me to give Elomi a try. I'd had some bad luck with Freya in the past and I have to admit that I'd pretty much written any love affair between me and the Eveden empire off entirely. Luckily, the owner of Karnation encouraged me to rethink things, to the point where she sent me a white Rita bra in my size as test. It was pretty much true love the first time I tried it on and I've been a big Elomi convert ever since.
I tend to try and spread my spending around with different brands, but I've failed miserably at that with Elomi recently. Due to sales and great preorder deals, I've basically stocked up on four sets with two more to come later in the autumn. The Betty set was my second try at Elomi and I may love it even more than the Rita, which I truly wasn't sure was possible.
I'm a plunge bra addict, to the point where if the world had enough great plunge bras in my size I'd probably buy only that style. Lots of my work dresses also require a plunge bra, so they're a central part of my wardrobe as well. I'd heard that Elomi's plunges were a great mix of fuller coverage, great support and a nice plunge cut but never tried one myself. When I saw this set in the Nordstrom's sale online at half price, I had to try it. I had some reservations: I can't remember the last time I bought a black lingerie set and the color didn't really pop for me in the photos.
It turns out that this set really pops when put on an actual human body, which was a truly lovely surprise! It oozes sophistication rather than fading into the background, which makes it great for a night out or under your every day jeans and t-shirts. As you can see, I was so excited about how this looked on that I didn't even take the tags off for the photo! This is a 34HH bra (the same size as my Rita) and a size L brief. I bought the briefs because they matched and were cheap, but I really love them on. Together, this set provides that perfect pinup photoshoot look that I find really elusive. The back of the briefs are totally sheer, which is a fun way to add sex appeal while still keeping the set easy to wear on a daily basis. I'm also impressed with the height of the panties. Between my height and my short torso, I tend to struggle with high waist panties. These hit perfectly and are extra flattering.
My only regret is that I missed out on the red version of this set, but I'm so sold on this I may try and hunt one down on Ebay. In the meantime, I have the Valentina and the new longline on the way to me to try and review!
This set is currently in the sale online at Nordstrom's for half price, so go get one while you can! They have lots of sizes left, so you have a good chance of snagging one.
What do you think of this set? Do you love Elomi as much as I do?