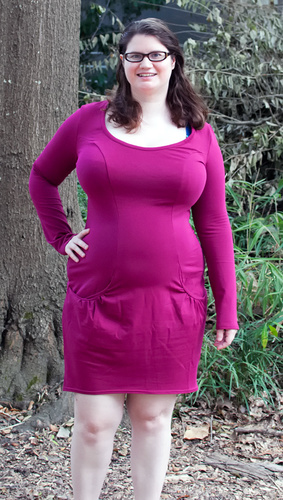 I've worn my orange Kieska dress for almost a year now, so I was thrilled when Urkye announced that they'd be making a long sleeved version for this season. I was even happier when I saw this deep pink color, which is exactly the kind of vibrant look that I gravitate towards.
Urkye is bringing out their fall line in stages, which is simultaneously fun and frustrating. If you want several pieces, it's hard to order them together with a staggered release unless you wait until the end. If you do wait, then you take the risk that your size may be sold out. In this case, I ordered one Kieska dress to check for size and planned to order a second one plus one of the new Urkye suit jackets down the road. I'm glad that I did, because this dress fits differently from my Kieska with the three-quarter length sleeves.
First, let's cover the details: the color is a deep and lovely magenta that really pops. It's going to look good on a range of people. I'm 5'4″, so you can see that the length is also going to be good for lots of people. This is a 42 oo/ooo, which I consider my regular Urkye size. The material is great – it's like wearing a mid-weight sweatshirt but with much nicer materials. This will be perfect throughout the winter in warmer climates and great as a base layer in colder ones.
I have some slight fit issues with this dress, but not enough to send it back. I'll definitely be ordering a 42 o/oo in the next one though! The body fits perfectly, but the bust/shoulders area is cut extra generously. I have excess fabric at the tops of my shoulders and at the sides, while the neckline is lower than my Kieska dresses normally are. The shoulders are also looser and tend to slip and show my bra, which doesn't happen in my other Kieska. Going down a curve size should fix this problem, but it's worth noting if you're going to buy one. If you struggle with having really broad shoulders, this dress will be great. The sleeves are long on me, but I always have that problem with clothing and I'll get them shortened or just wear them as is.
This dress is another universally flattering piece from Urkye and I'm excited to wear it once it gets a bit cooler. I can't wait to try the next size down and one of the new suit jackets!
Have you tried Urkye? What do you think of their clothing?