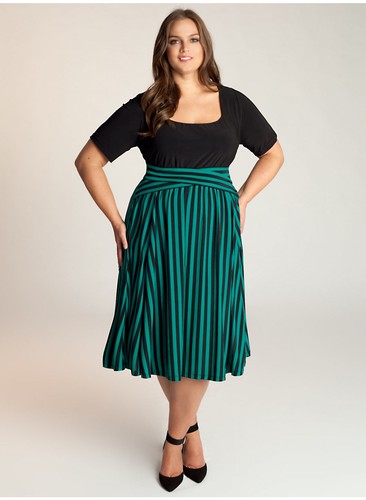 Make sure you don't miss the giveaway at the bottom of this post!
I've been window shopping on the IGIGI website forever, but I hadn't heard a lot of reviews about how they worked for busty women. I'd seen pictures of both Georgina and Caroline looking fantastic in their dresses, so I was super excited when IGIGI me the chance to try a dress.
IGIGI carries dresses in sizes 12 through 32 and specializes in interesting colors, flattering prints and great plus size silhouettes. They carry separates and basic workwear items like suits and coats, but everyone I know is mostly obsessed with their dresses.
It never gets quite cold enough for real sweater dresses here, so I elected to go with a dress from their "Intro To Fall" line. I have lots of prints in my wardrobe, so I decided to go with something really different for me – stripes! I loved the classic chic look of this dress as well as the t-shirt type top. I need more easy to wear work dresses and this seemed right up my alley. The size 12 fit my chest measurement exactly, which is rare for a size 12!
So how does it look? Check it out: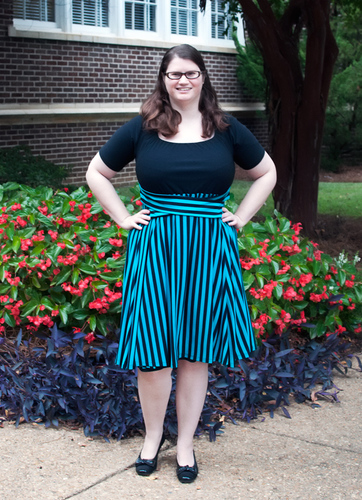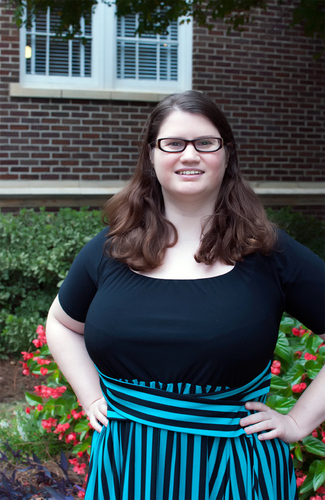 I'm obviously going to review the dress, but I have to start with a note about the packaging. Lots of companies just stuff their $130+ dresses into a plastic bag so they wrinkle in the mail, but IGIGI really does their packaging right. It came perfectly packaged with a bag and a hanger, which had been packed flat in a larger box so it wouldn't wrinkle. This is the first dress I haven't had to steam wrinkles out of in ages, so extra points to them for packing things nicely.
As for the dress itself, I love it. It's not my normal vintage infused style, but I think it's a great alternative look for me. The waist is a bit big, which I expected given that my non-bust measurements are a little small for the IGIGI size chart. The waistband detail disguises that wonderfully, so I don't even have to wear a belt with it.  The dress feels very sophisticated and almost Parisian to me, while still being completely business meeting appropriate. Even better, it magically hides all the weight in my stomach!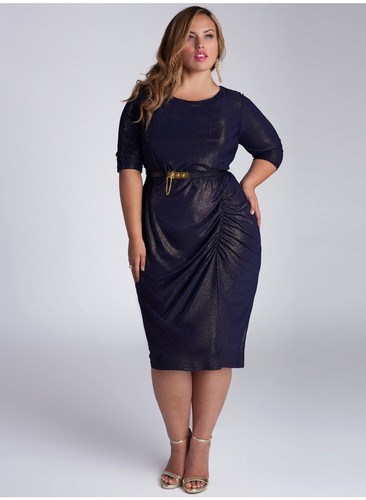 I was most surprised by the quality of the dress – the fabrics are nice and the whole skirt is lined beautifully so it falls nicely and doesn't move around too much. These dresses are a great deal for the price and I see why they're so popular. I'll definitely be back to try more – I've got my eye on this gorgeous cocktail dress, despite not needing any more fancy dresses.
If you like the look of this dress or if you have also been lusting after an IGIGI dress, today I have a treat for you! IGIGI has graciously offered to host a giveaway with The Full Figured Chest – the prize is a $75 gift certificate that can be put towards the gorgeous dress of your choosing. The giveaway will run until November 5th, at which point I will notify the winner. If I don't hear back from the winner within 72 hours, I'll have to pick someone else, so please make sure to enter with an email address that you check on a regular basis!
Check out the widget below to see how to enter:
a Rafflecopter giveaway