After two long months of traveling for work, I was finally able to return to New York and unpack my suitcase.  Once I settled in to my apartment, I decided it was time to get back to the goal I set for myself when I first moved in three months ago of trying to explore all the city has to offer. First stop: Angela Friedman's studio.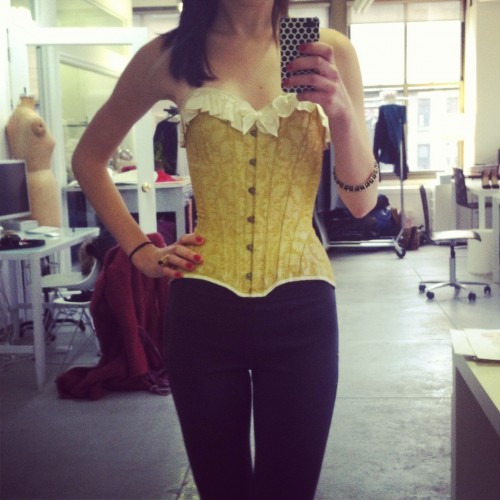 You may remember that I was able to visit her space earlier in the year and do a little profile on her SS '14 and Holiday '13/'14 lines. This time around, I came with a specific interest–the process of making her infamous corsets. As someone who will use any excuse to wear lingerie out of the house, bustiers are often my go-to if I'm in the market for something new. But what exactly is the difference between a corset and a bustier? Why is one so much more expensive than the other? What technically qualifies as a corset? I came armed with a list of questions, and admittedly an ulterior motive to play dress up. Hopefully this will help shed some light on the topic for those of you with similar questions.
Structure seemed to be the biggest difference between a corset and a bustier. A corset is made with steel bones, durable non-stretch fabric, and made to enhance or create curves; while a bustier is typically a little flimsier and is made to stretch to fit to your body shape. With that distinction out of the way, Angela then specified between modern and traditional corsets. Traditional are those that are commonly used for theatrical performances, or costumes to replicate period pieces, while a modern rendition is more to be worked in as a lingerie style, or can be worn as outerwear. One thing that Angela keeps consistent whether she's doing a custom traditional piece or a ready to wear modern version, is the durability. She makes these garments to be not only beautiful, but also to last for years to come.
What goes into making them so durable and of high quality is a combination of the structural components and all the fun stuff to make them just as gorgeous as they are long-lasting. There are (at least) two layers of fabric–Corset Coutil which is the inner layer, then something like silk which is what you see on the outside. But the corset coutil, which helps the garment keep its shape, is no easy purchase, it has to be imported from either England or Germany for the best quality (which means mo' money. $$$$). You've probably heard of steel bones which are part of corsetry, but there are actually two different types.  First, white bones (or spring steel) which are extremely lightweight and only bend in one direction, these are usually used for the straight lines in the front and back. Then there are spiral steel bones which bend in multiple directions but are much heavier, these are used for creating strong curves which you'll find in the bust area.
On top of the fabric and boning, you'll also need the busk, which is the hook and knobs that hold it together in the front. This is not to be confused with a hook and eye closure which you typically see on a bra or bustier. As you can tell from the picture, a busk is much studier. On the back of the corset you'll find the lacing which also requires grommets, or for us common folk, known as "the little caps that make it easier to push the laces through the holes."
Then on top of all of that you add her signature french lace, embroidery, bows, or whatever else is serving as her current inspiration (read: the fun stuff). When you factor in all of the materials on top of the shipping costs, and the fact that she only buys the highest quality fastenings and fabrics, you can see quickly why a corset costs more than a bustier. But the quality and customization is in a league of it's own.
Now. That was a lot of information. And it was really only a fraction of what she showed me. As Angela pulled out patterns, corsets in their different phases of construction, industrial looking tools to cut steel bones, I quickly learned that corsetry is a very time consuming, meticulous, and precise process. Certainly nothing like what goes into a bustier, or even those "corsets" that are made with plastic boning and side zipper closures. I'm certainly not one to turn up my nose at a department store bustier (girl's got a budget okay?), but there is something to be said about understanding everything that goes into the cost of making a real corset. Something that Angela Friedman has undoubtedly mastered. One of the many things I respect about her and her business is that regardless of what type of corset she's making or for whom she's making it, the three main components she does not waiver on are it being structurally sound, being beautiful both on the inside and out, and that it fulfills it's duty of shaping and fitting a person perfectly.
She was kind enough to let me try on a gorgeous gold brocade corset from one of her first collections, as well as a waspie. The waspie I tried on first just with my bra, and then we tried it as an outerwear look which I think turned out pretty awesome.
And as a side note, I happened to be wearing leggings and boots that day, so when paired with the corset I felt this weird/amazing vibe that I was a superhero. It was sort of a modern-day Wonder Woman get-up. One I'm not opposed to wearing again.
What do you think? Have you invested in a corset, was it worth it?