Those of you who are regular readers will realize that this review is an aberration – I almost never cover separates. Since throwing all my jeans out ages ago, all of my casual and flattering shirts have been sitting in a drawer. While I'm not going back to pants since I can't seem to find a pair that works on me, I am actively trying to reincorporate my cute tops back into my rotation. I've been on the lookout for cute skirts for daily wear, so you may see more of them popping up on the blog and on the social media streams.
I actually fell in love with this skirt months ago and passed it by since I thought it would feel like a costume. The print was part of a capsule range inspired by Little Shop of Horrors that Pinup Girl Clothing did earlier this fall. I loved the colors and the idea of the skirt, but couldn't quite picture me in it. Between the pretty pictures of it on I Like Pretty Clothes and a flash sale that Pinup Girl Clothing had, I couldn't resist trying it.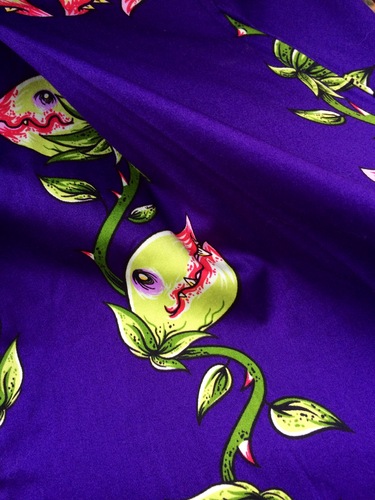 I've found over the last year that I'm one of those people who really enjoys stocking their closet with bold novelty prints, but I'll admit that this was possibly the boldest print that I've ever purchased before! I expected it to be cute and quirky, but was worried it might be overwhelming on my shorter frame. What I didn't expect was that it is absolutely beautiful in person. The rich purple contrasts with the greens and yellows in a way that is truly gorgeous.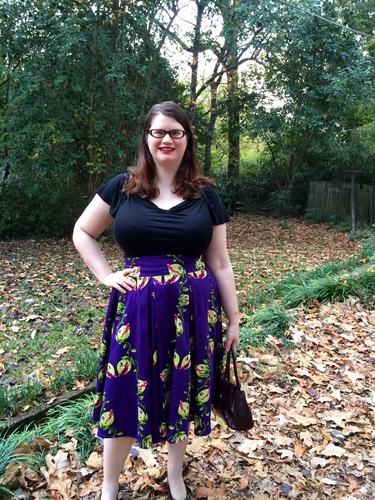 The Kinky Box Skirt is a new cut for Pinup Girl Clothing and I really hope they'll extend it beyond the Goth collections that they did this year. It's the perfect cut for short waisted girls who like high waisted pieces. As you can see, high waisted for me basically translates to my underbust measurement. It's even a good length for me, where some vintage inspired pieces come down to my calves due to my height. I actually wore it several times last week with both short and long sleeves due to massive weather changes, so it's clearly a versatile piece that can be worn over and over. I'll probably pair it with white or even red in the summer. I really love the shape of this skirt and how flattering the wide waistband is. It gives a great hourglass effect even when you're just throwing it on over a plain t-shirt.
What do you think of this skirt and the print? How do you feel about novelty prints?