I was really flattered to be nominated for best lingerie blog in the Brastop awards, but the icing on the cake was that all nominees were offered a sample set from Brastop! I had originally intended to try the new revamped Curvy Kate line, but I couldn't resist this green Selena set once I ran across it. I'm a huge fan of Kris Line bras, but I'd never run across one in a color in my size before. I liked their Pearl set enough to buy two at once, so I couldn't resist seeing how the Selena measured up.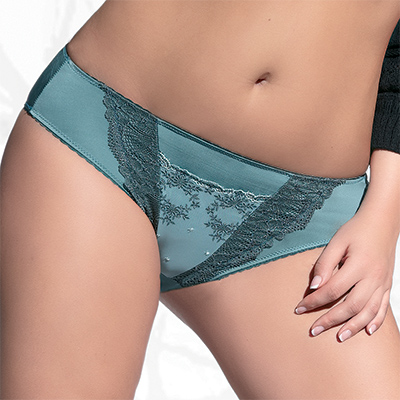 Kris Line hasn't made it big in the US yet, although they're starting to pop up occasionally on the discount sites like Zulily from time to time. Brastop is still the most reliable place to find them, as well as their fantastically comfortable and flattering nightwear. They're definitely a different design aesthetic from the UK brands that are targeting younger customers, but their materials and lift are second to none. While I'm the first to embrace crazy clashing color designs, Kris Line sets always look so smooth and sophisticated to me.
Like most brands out of Poland, sizes don't quite conform to standard UK sizes. While many Polish brands run small in the band, Kris Line runs fairly true to size. What does run small is the cups – as much as two sizes small. I wear a 34HH consistently in UK brands and wear a 34JJ in Kris Line. If you're new to the line and want to try it, I'd start with your regular band size and two cups up.
So how does the set look on a non-lingerie model? Here it is in the 34JJ: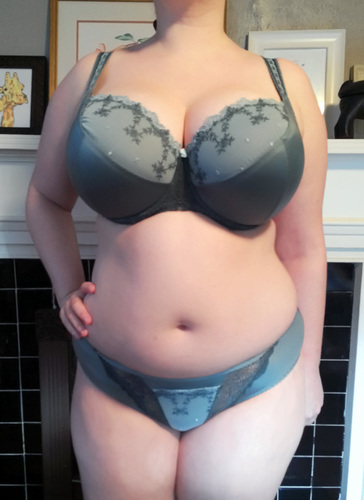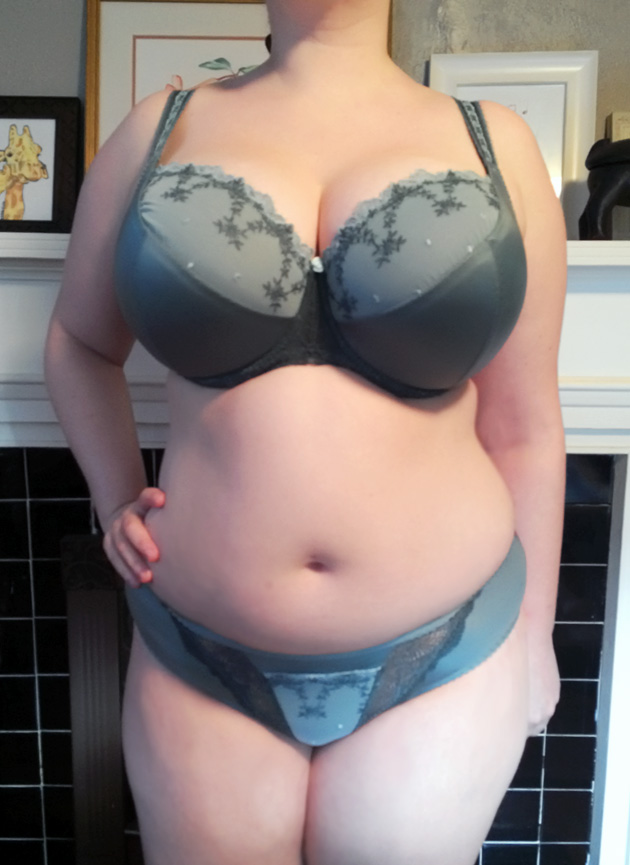 As you can see, this bra gives amazing lift and is absolutely gorgeous. The color is different from any other green I've seen used in lingerie and hard to capture on camera – I think my photo is a little truer to the color than the Brastop promotional photos are. The wires in this bra are narrow and the gore is nice and low, which helps give the great lift and shape. What's really notable about this bra is the materials. While all of my Kris Line bras have been made of nice luxury materials, this soft green fabric is my favorite. It's the softest fabric I've ever felt in a bra, but it still creates lots of structure and lift.
A note about the gores on Kris Line bras – I never have any trouble with gores tacking, but not all of my Kris Line bras tack firmly. They still fit so I'm willing to give them some leeway, but it's worth noting if that kind of thing bothers you. The gore on this bra does a better job of tacking than on my others, so if you're new to the line this might be a good place to start if they have your size.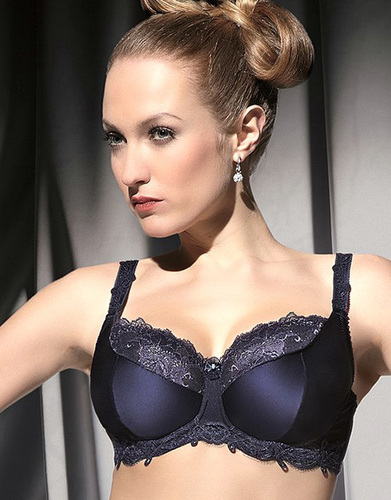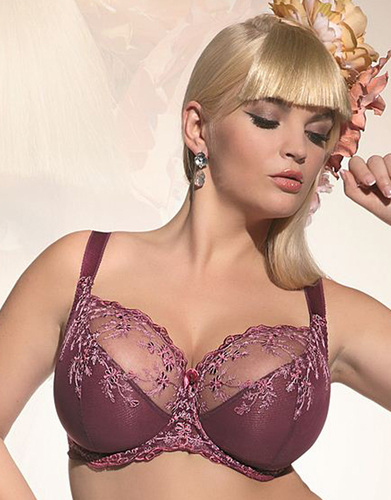 Brastop currently has two more of the fashion options from Kris Line in my size currently, which I'm incredibly tempted by! A matching set of Kris Line from Brastop runs around $55, so it's a great way to try them out without breaking the bank (or to collect all the colors if you're slightly obsessed, like me). The bra alone runs about $125 once it's imported to the US and marked up to full retail, so Brastop is a great budget friendly alternative.
Have you tried Kris Line? What do you think of their designs?