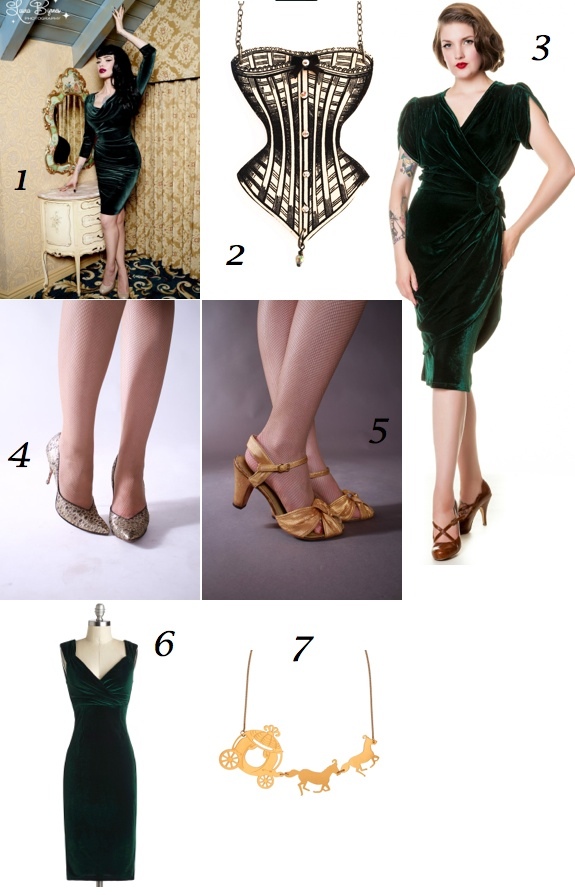 I'm one of those people who loves to go all out for the holidays in terms of fashion. After all, what other time of the year is full of parties and glittery decorations? Even though we're still in the pre-Thanksgiving period, I know lots of people are already hunting for their new party dresses. I'd like to humbly suggest my favorite holiday fashion combination – green velvet with lots of gold accents. All of these dresses come in a wide ranges of sizes are are curve friendly, while the shoes and accessories walk the fine line between retro inspired and modern fashion plate.
1. Film Noir Dress in Green Velvet by Pinup Girl Clothing
I've owned this dress for several years and absolutely adore it. It's incredibly curve flattering, just warm enough to keep out the winter chill and perfect for all sorts of occasions. It's usually restocked at the beginning of the holiday season each year at Pinup Girl Clothing, so if it is sold out just keep checking back until it shows up again.
2. Corset Necklace by Mama's Babies
I really like combining funkier accessories with more classic pieces to freshen them up! This necklace is retro inspired but definitely makes a statement.
3. Delilah Dress in Green Velvet by Collectif
Collectif has put out two great green velvet dresses this season, but the Claudette is long and harder to wear to multiple occasions. The Delilah dress is a great length for holiday parties if you want to be able to move around more!
4. 1950's Vintage Gold Shoes at FabGabs Vintage
I'm not much of a shoe person, but I have fallen in love with a pair of gold heels I got at FabGabs Vintage last year. I love this patterned pair for those of us who don't love open toed shoes.
5. 1930's Vintage Shoes at FabGabs Vintage
If you do like open toed shoes, this pair is super sexy! The chunkier heel also looks really practical.
6. Lady Love Song Dress in Green Velvet at Modcloth
If you're looking for a sexy wiggle dress for the holidays, I think this one is perfect. It has rave reviews on Modcloth from a variety of sizes as well.
7. Tatty Devine Horse and Carriage Necklace
I've had my eye on this necklace for ages and am tempted to pick it up for my birthday when I'm at Trashy Diva. It's a neat piece that would go with lots of things, but still makes a dramatic statement.
Do you like green velvet? Which of these pieces is your favorite?