Awhile back, Esty Lingerie held a giveaway on Facebook – the prize was one of their bra strap harnesses. I've actually seen these harnesses looking great on several other bloggers and liked the look of more fully body harnesses on bloggers like Je Ne Sais Quoi and The Lingerie Lesbian. Color me completely surprised when I won!
I'd held off on trying this super trendy look because I assumed it just wouldn't work with my wardrobe. While I don't do the full vintage look, my clothing does tend toward the retro. I've seen people rocking harnesses as part of cool modern sculptural looks and lingerie inspired looks, but I wasn't sure it would work for me.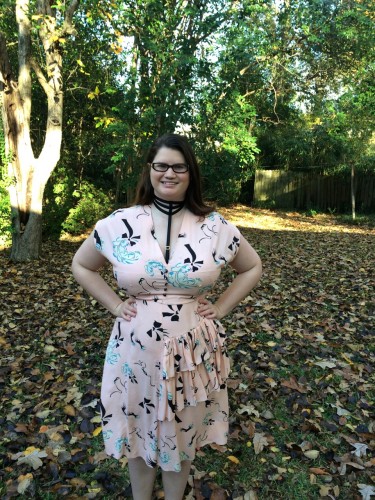 Harnesses can be extremely dependent on chest size, so I'm thrilled to see Esty opening up the look for those of us who don't want to invest in a full harness. This lingerie inspired accessory is a really clever solution. As you can see, one loop slips over your bra and sits around the gore of your bra. The rest comes up around your neck, giving you that harness look without the sizing problems. It's an easy version of the bondage inspired trend that works for anyone, regardless of cup size. Each bra strap harness is made by hand and Esty carries a huge range of them. Some have skulls and some are made from bright colors, which means that there's something for every personality. The Triple Choker Harness is adjustable around each choker part, which ensures a comfortable fit.
My first thought was to pair my harness with the obvious – the vintage bondage inspired Slap and Tickle Dress by Trashy Diva! I love how this is a nod to the origin of the print while still being an every day look.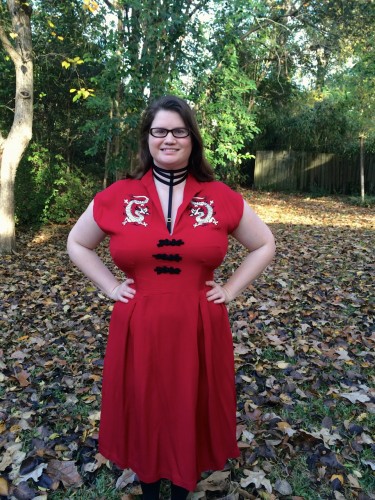 My second try was with my Dragon Lilian Dress by Trashy Diva, which I felt stood up to the bold look of the harness. It definitely toughened up a dress that already had lots of attitude and I felt like it was a great combination.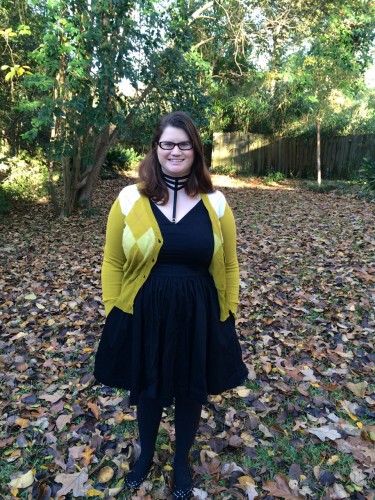 I was extra surprised that my favorite of the three looks was the most unexpected combination – my Trashy Diva Mini Ballerina Dress with a green argyle sweater and some spotted shoes. I tried this as an accident since it was what I already had on and ended up really loving it!
I think this bra strap harness is a great way to try out this look for yourself if you're on the fence. It's smartly designed and comfortable for long term wear, but also a great way to embrace a different side of your wardrobe. I know I'll be pulling this harness out to liven up some of my old wardrobe favorites on a regular basis.
What do you think of the harness trend? Would you try a bra strap harness?