This set was provided by Tutti Rouge. All thoughts are my own.
I reviewed two Tutti Rouge bras last season for The Lingerie Addict – the Liliana and the Betty. While I loved both in terms of shape and design, I found the sizing to run on the small side and other bloggers found issues like inconsistent band sizes, etc. One of the good results of all of this is that there was enough feedback that Tutti Rouge talked about reworking some of their sizes and cuts – and they have! I was lucky enough to  get to try two gorgeous sets from the new line late last week and I'm so excited about them that I'll be talking about Tutti Rouge in detail both today and on Wednesday.
I was sent two sets in 34HH and a size L briefs – the Mae Set and the Olivia Set. I'll start with the more basic set today and move onto the geometric pattern print set on Wednesday. The Mae set was something I would never have bought for myself normally, but I ended up really loving. I've never been big on either black or beige lingerie, but this set has just enough fun details to turn it into something special.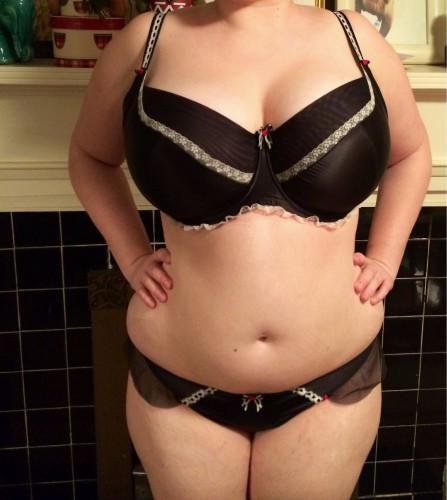 When I took this set out of the box I was worried that it would read as too french maid, but it's kicked up a notch by the thoughtful details and luxurious materials. I praised both of these aspects of Tutti Rouge last season as well. The tiny red flower details break up the graphic nature of this set and the two contrasting laces make the design feel expensive and intricate. As someone who works with lingerie pricing on a regular basis, I'm so impressed by how expensive these bras feel when Tutti Rouge is essentially a budget line. Their satins are thick and soft and the laces are intricate and unique. This bra feels like an $80 bra rather than a $48 bra. In terms of design details and fabric quality, I'd easily rate these bras over Cleo by Panache which tend to be supportive but plain in terms of fabrics and detailing.
In terms of fit, there have clearly been some much needed revisions since last season. These cups are deeper and seriously supportive, while the band is right on target. The gore tacks perfectly without scratching as well. Most people reported Tutti Rouge bras to run at least one cup size small last season, but this fits in my Elomi/Panache/new Curvy Kate size, meaning their cuts have become more standardized. While this will upset the people who the old cuts worked for, I suspect this will help them gain a ton of new customers this season. The straps are still wider set than some other brands, so you may have to do some adjusting if you have smaller shoulders.
In addition to this bra being well made and gorgeous, I'm throughly impressed with Tutti Rouge's willingness to listen to their customers and make changes that made their line stronger. So many companies dig in and rework the same thing over and over, so it's wonderful to see Tutti Rouge showing that they're willing to keep innovating over multiple seasons.
Check back on Wednesday for my review of the Olivia set!