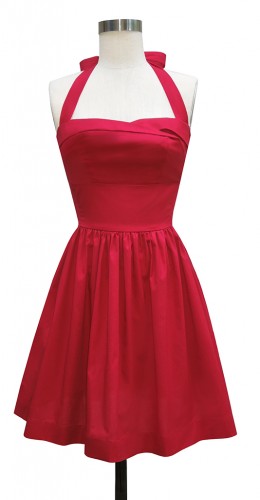 I was lucky enough to get to spend Thanksgiving in my favorite city this year – New Orleans! While New Orleans has enough to keep anyone busy, I obviously couldn't leave without doing a marathon try on at my favorite dress store. I'd sort of forgotten about Black Friday, but was thrilled to see the sign on the door of the French Quarter Trashy Diva boutique offering 20% off when I walked in.
Shamefully, I was too busy trying on dresses left and right to get any good pictures of the boutique itself. The new Trashy Diva dress shop is on Royal Street and is much bigger than their old space. Even so, it's packed with dresses in all colors of the rainbow. I'm glad they have such good sales assistants, as they have so much stock I think it might be pretty difficult to navigate on your own. They have lovely fitting rooms, as well as nice places to sit for those who are tagging along with you. They even have a "man couch" in the back for beleaguered menfolk to chill out on while they play games on their phone if they're accompanying female shoppers to the store.
I obviously tried on massive amounts of dresses! I walked away with five, as well as a long list of what to buy next. I'm currently hunting for a holiday dress, but after that the new black cotton Liz dress is headed towards my closet. My five included: the Cobalt Satin Liz Dress, the maroon long sleeved Jenny Dress, two Trixie Minis and one Varga Dress. I went ahead and exchanged one of the Trixie Minis for a second Vargas after I got home – you'll see why once I do the review and comparison. Kudos to the sales assistants for showing me the Liz dress, which I had overlooked completely on the website and fit like a dream. It may be my new favorite dress shape!
I'm reviewing the Varga and the Trixie together since they're very similar dresses in terms of shape and construction. Both have elasticated side panels built into the dresses for a near custom fit, are halter dresses and have medium full skirts. Weirdly enough, trying them side by side, I found one worked much better for me than the other.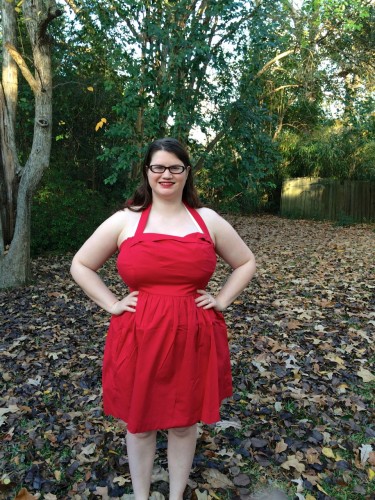 I originally ordered two Trixie Minis online after I bought my dresses in the store, since I liked the idea of having some more casual summer dresses. The Trixie and the Varga are functionally the same dress body, but have different necklines. The bodice of this Trixie is slightly padded and layered with a thinner halter.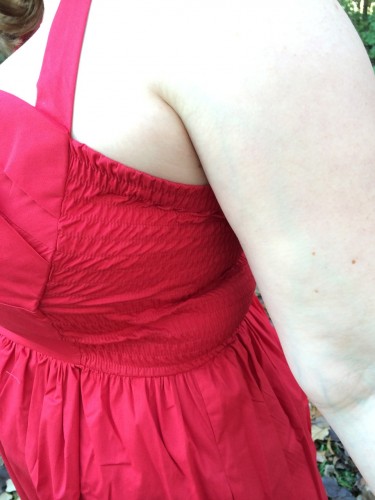 This is a great view of the elasticated side panels that are found in both dresses – they're great for creating a custom fit!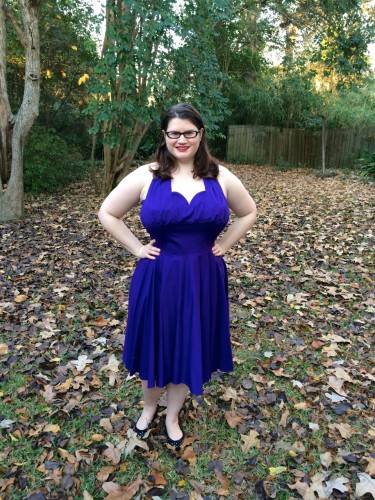 If there's a lesson in this post, it's clearly that necklines matter so much when you are full busted. Same dress body with a slightly longer skirt, totally different effect with the wider halter and the sweetheart style neckline. While I love both dresses, after seeing these side by side I thought getting another color in the Varga was a better bet than a second color in the Trixie Mini. Consequently, I'll be exchanging my teal Trixie Mini for a teal Varga.
Both of these dresses are from the cotton poplin line, which means they're extra light and airy for summer. It was actually warm enough to wear these outside today, even in December. They'll be great when the real heat kicks in next year.
On a quick note, I'm wearing my Maria bra by Elomi under this as a halter. I'll be doing a full review later, but I'm thrilled to finally have a real multiway bra that looks this good and doesn't dig into my neck.
Do you prefer the Trixie or the Varga? What are your favorite flattering neckline shapes?