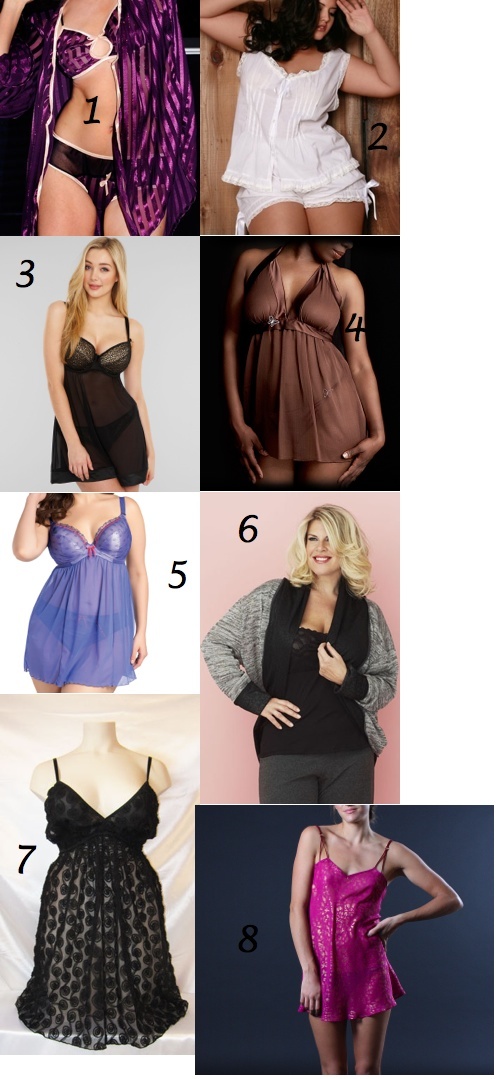 Whether you're ready or not, the holiday season is upon us. If you're in the lingerie industry this season can be full of awkward elf costumes and Mrs. Claus outfits, but there's also tons of great stuff out there for those of us who are looking for something less literal. This gift guide combines all of my favorite things: thoughtful indie designers, gorgeous colors and supportive yet comfortable pieces that you can actually wear year round. All of these pieces are full bust friendly, several are from plus size companies and they span a fairly wide price range.
1. Lullaby Kimono Robe by Priscilla Jade
Priscilla Jade is back with a new brightly colored collection that is unexpected and fun. This kimono is a great piece if you're not sure what bra or panty size someone is or if you just want to inject a pop of color into your lingerie drawer. I have one of Priscilla's mesh robes and it's truly one of my favorite pieces. Her sizing is very generous – my robe is an XL and I could have easily gone with an L.
2. Edwardian Cotton and Lace Camisole by Hips and Curves
If you're into fashion history or even the steampunk thing, this set is perfect and budget friendly. Buy it with the matching bloomers to sleep in or to reenact your favorite steampunk novel with.
3. Lola Babydoll by Curvy Kate
I'm not as in love with black lingerie as everyone else is, but this is truly a gorgeous babydoll. Curvy Kate has moved into babydolls up to a K cup, which honestly means they could have slacked off since there is such a small selection. Thankfully, they didn't and gave us this gorgeous piece instead.
4. Silk Chiffon and Charmeuse Halter Babydoll by Bijte
This babydoll from Bijte is notable for having a built in support system for full busts while also being backless and plunge cut. If you're looking for something sexy and well built, this is a truly unique holiday option.
5. Izzy Humming Bird Babydoll by Elomi
This Elomi babydoll is a piece that can be enjoyed all year round – it's comfortable enough to function as sleepwear. I love the unusual colors and the bandless bra cut is great for plus size women.
6. Oversized Cardigan by Lulu West
My favorite sleepwear piece is a silk slip by Lulu West, so I'm a big fan of this brand. Somehow their photos never seem to show the sexy side of their pieces – imagine this with a gorgeous black bra set underneath! This sweater is warm and comfy, while the lurex threads help it feel special and sexy.
7. Kate 3D Black Rose Babydoll by Raven Dreams
Raven Dreams is a fabulous independent company out of the UK specializing in fabulous plus size lingerie. Each piece is made by hand from luxurious stretch silk fabrics and cut for plus sizes and full busts. The texture of the roses on this piece is just lovely and makes it really stand out from the pack.
8. Leopard Play Babydoll and Robe by Between the Sheets
This set was high up on my birthday list this year and I was lucky enough to get all three pieces! While Between the Sheet's photos don't make their pieces look plus size/full bust friendly, their bias cut babydoll is fantastic on. The L fits me, so don't hesitate to email them and ask about sizing if you think you're sized out. The fabric is gorgeous, the cut is insanely flattering and the set is more than worth the price tag.
Which piece is your favorite? What pieces are on your holiday wish list?