This set was provided by Tutti Rouge. All opinions are mine. 
Tutti Rouge made a splash in their first season with unusual colors and prints, so it's only logical that they would continue to build on their love of cool prints for their second season. This season features several trendy and unexpected takes on old favorites like florals and geometric prints.
This bra features lots of details that I think of as the Tutti Rouge trademark: interesting accents at the gore, pretty lace ruffles and their signature heart shaped metal sliders. While I love prints, this isn't one I would have tried on my own. I absolutely love it and now feel like I'd take a chance on any of the Tutti Rouge prints now after having tried this bra.
So how does it look on a person?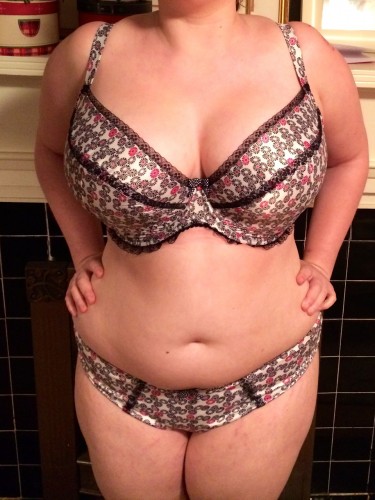 This is my normal size of 34HH and it fits perfectly – the sizing of this line has definitely changed for the better, in my opinion.  They're still built on the wider side if you're used to Polish brands, but are comparable to the Panache Tango in terms of wire width. The gore is nice and low, which is lovely to see in a bra with this kind of cup size range.  The bra is made of a thick satiny material that feels far more expensive than most bras at this price point.
My only note is about the straps: Tutti Rouge sets their straps wider than some brands, which can be trickier if you have narrow or smaller shoulders. They don't slip off my shoulders and haven't bothered me, but I know it's an issue that lots of people look for.
I'm totally thrilled by this season of Tutti Rouge, both in terms of fit and style. At this point I think they're more than on par with more established brands like Cleo. While I know the cutesy look isn't everyone's cup of tea, I really love the look and feel of their bras. Tutti Rouge sets feel special, even though they're extremely budget friendly. I can't wait to try the new Spring/Summer offerings, but I can see myself picking up at least two more of this current season as well. I don't think I can pass up the parasol print bra!
What do you think of Tutti Rouge? Have you tried their lingerie yet?