This past weekend was Lingerie Fashion Week here in New York City, and although I could only make it to one of the day's events, it certainly was a good time. Today, I'm sharing what I saw from the Parfait/Affinitas runway show, as well as the Layneau showcase.
First up was the Layneau showcase which featured an assortment of models standing for about an hour under hot lights, but wearing even hotter lingerie. I was flipping through Layneau's lookbook before the doors opened and was instantly intrigued by the complete luxuriousness of it all. And seeing the garments in person only made me want them more.
Looking at the entire collection showed a nice progression from dainty, doll-like pieces to bolder colors and designs. Another great aspect of the presentation was the diversity of models. While I didn't ask the models their ages, it was clear that this was a line for any women, young or…not young.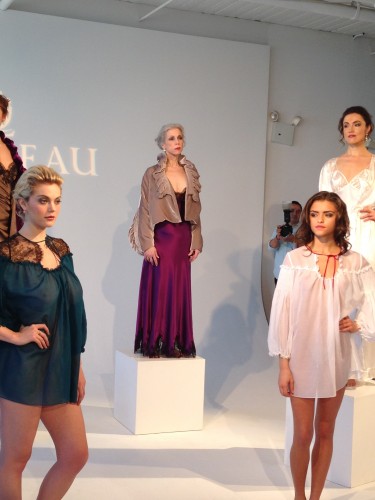 It was hard to pick a favorite, but the floor length purple velvet robe is something I'm convinced I absolutely cannot live without, in fact I don't even know how I've gone this long without owning it. Oh, and babydolls, I'll be needing those too.
There were some other shows in between (more for those on another post), but closing the night was the Affinitas/Parfait show. I am a huge fan of the line, they fit my body really well (I was lucky enough to review the Charlotte Bra which fit me perfectly). However, I couldn't help but notice that the models walking the runway did not really fit into the garments correctly. I understand that Lingerie Fashion Week is a relatively new event, and designers may have limited resources in terms of who they choose to model their pieces. But it was sort of a shame to see poor-fitting bras at a lingerie show because they really do have a wonderful selection in their wide range of sizes, which are all modeled so well in their lookbook.
Now that my one, tiny complaint is out of the way, on to the good stuff. The designs themselves were adorable, as always. I've already got my eye on more than a few to add to my own collection! From Affinitas they had some really cute babydolls, but the Simone Bra and Hipster set is as good as mine. And they did a fabulous job styling all of the models, why have I never worn a statement necklace and heels with my lingerie?!
In the Parfait Collection, which goes up to a K cup, they introduced some fun prints from colored leopard, to feminine florals. Shown in my picture is the Leslie Balconette Bra, although due to my sub-par photography skills and the fact that I can never get the timing quite right, my pictures do not do them justice.
That was a small fraction of my Lingerie Fashion Week experience, but I definitely fell in love with Layneau's line which screams decadence. Affinitas/Parfait remains one of my favorites for everyday wear. They're not so much giving you wow-pieces, but more glamorous daily pieces with more than enough options to really let you express your style through your lingerie.