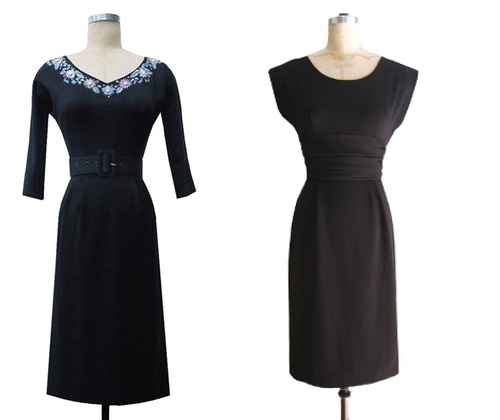 While I primarily gravitate to insanely colorful dresses, lately I've found myself hearing the siren song of a little black dress. I haven't had one for a few years and had almost given up on finding something perfect. When you're full busted it's easy to get into the rut of trying to distract people from your figure with colors or patterns, but sometimes a lady just wants to get back to basics.
Enter the latest insanely great Trashy Diva sale, which offered an extra 50% off on all sale items. They also added lots of new items that weren't final sale, which gave us collectors an opportunity to grab some pieces that we'd had on our lists. Luckily for me, several basic black knit dresses got put in the sale and I decided to restart my search for the perfect classic black dress. The unexpected result is now I have two I absolutely love! I'm reviewing them both today, since they're made out of the same material and both still in the sale if you want to pick them up. That said, these are two totally different dress styles I thought it was worth doing a detailed review. For review purposes, neither of these dresses are photographed with shapewear under them so you can see how the fabric really falls/clings.
This dress is a stealthy showstopper! It really doesn't look like much in pictures or on the hangers, but it does some pretty magical things when put on a body. The knit fabric is the same stretchy thick knit that is used in the Jenny and Mansfield dresses, but I think this cut is extra flattering. Keep in mind that I'm 5'3″, so the dress will be shorter if you're taller.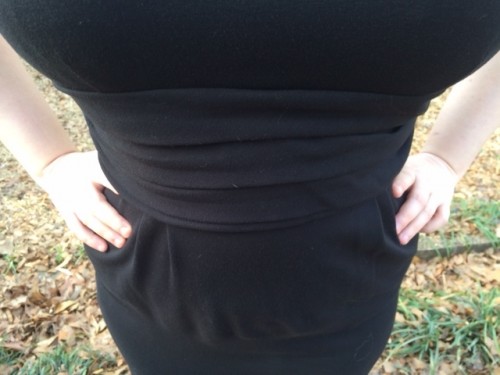 This is a size 14, which is my regular Trashy Diva size and one size larger than I usually take in their knit dresses. The waistband that you see is lined with acetate which gives the dress great shape, but also means that you're probably not going to be able to size down without some very deep breathing, an assistant to zip up the dress and possibly some butter to grease yourself into it. Save yourself the hassle and stick with your regular Trashy Diva size.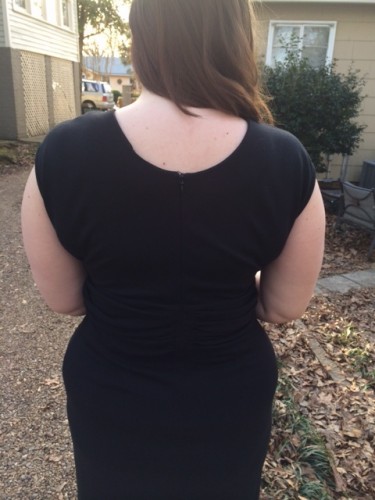 The dress has a lovely shape and line from the back as well. I have zero hips and a flat butt and this dress actually makes me look curvier on the bottom half. I have tons of room in the skirt, so I truly believe that this size could fit up to a 46″ hip.
The verdict: If you're looking for a plain black dress with a quiet wow factor, this is it. 
I had sort of overlooked the beaded knit collection that Trashy Diva released awhile back and now I'm kicking myself I didn't buy them all while my size was around. I've worn this to the symphony and to the grocery store and this dress has been equally at home in both places with different shoes and jewelry. I also love that it has longer sleeves, especially with this month long cold streak we've been having. This is another one that doesn't pop on the hanger but looks great once it's on.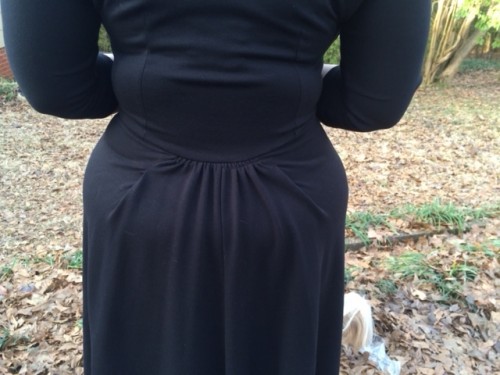 As you can see, this dress would probably be better with some light shapewear. The fanback skirt is a great design detail that really adds something special to the dress. Since this one doesn't have the tighter waistband, I'm perfectly happy in the size 12.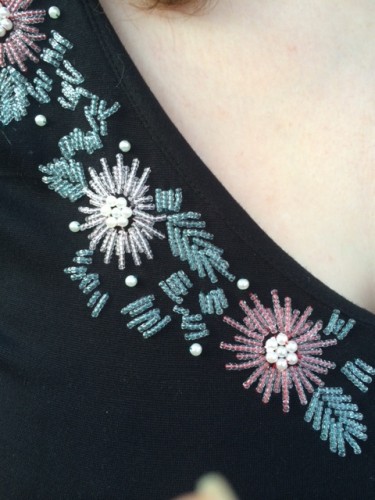 The beading on this is delicate and pretty without going overboard and turning it into a cocktails only dress. I love the unusual colors and the floral motifs. I was originally worried about the beads staying put if you wore it a lot or bumped into something, but I've worn this one multiple times a week this past month due to the weather and it looks good as new. It also comes with extra beads if something does happen, but since my sewing skills are positively pitiful I'm happy to not need the extras so far.
The verdict: A completely unique black dress that can go anywhere and work for any occasion.
Which one should you pick? Since I'm a dress glutton, my answer was obviously both! What's great about these dresses is they'd both be equally at home in an office or at the theatre, which makes it hard to go wrong. Another option is the Lorelai, which I tried to get but was sold out in my size. It has gorgeous pearl beading and is totally classy.
Which dress is your favorite? Do you have the ultimate little black dress? Leave your thoughts and recommendations in the comments!