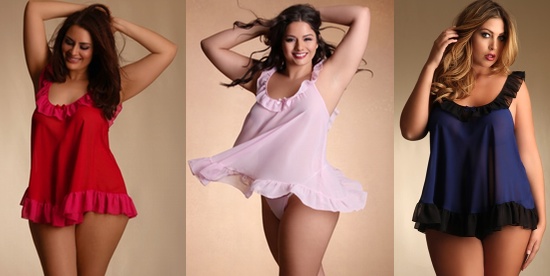 I've spent the last week sorting through all of my clothes, underwear and pajamas so I don't have to move stuff that isn't useful/wearable. There's nothing like moving 200 miles to help clarify what's important in your wardrobe or lingerie collection! What I did find was that most of my sleepwear options are pitiful. Lots have holes, are worn out, or are just giant pilled t-shirts that I really hate. While I'm totally set if I'm ever offered a random boudoir shoot, I didn't have a lot of stuff for sleeping in. I've spent the winter hibernating in two pairs of warm pajamas, but now that it's warm again I'm ready for cute and girly sleepwear.
I was lucky enough to win a Hips and Curves gift certificate through the Bras and Body Image blog giveaway and used to it check out the pink version of their georgette babydoll. I'll be doing a full review next week, but I fully fell in love with it (to the extent that I bought two other colors since their stuff sells out so quickly). This babydoll represents everything that I love about Hips and Curves. They come in basic colors and fashion colors, including an adorable red/fuschia clashing colorway that I couldn't resist. They're affordable at $39.99 per babydoll, which gives you room to add in a cute matching thong that works for daywear and sleepwear. They're also incredibly flattering on and have that flirty sexy appeal that Hips and Curves projects so well.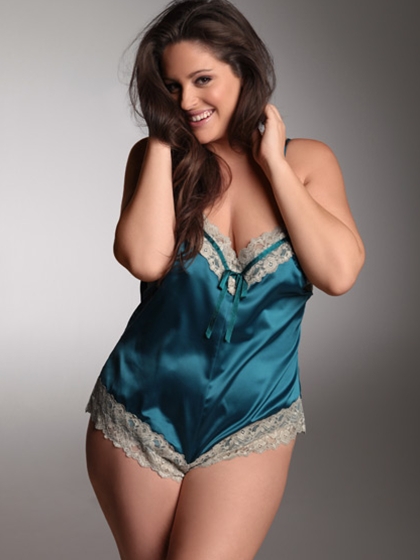 One quick warning: I've totally ruined two awesome Hips and Curves pieces before by putting them through the washer without reading the tag. They sadly haven't made this vintage style teddy in the teal color again, or I would have snapped it up in a heartbeat as a replacement! It was absolutely my fault – the washing instructions were very clear about handwashing and I spaced out and put them through a regular wash cycle. Make sure to read the washing instructions!
Secondly, their pieces tend to sell out quickly so if you want a particular color I'd buy it sooner rather than later. The red and fuschia colorway only had one size left when I bought it, so I'm glad I took the plunge even though it means more stuff to pack. These will be great sleeping staples for me, even though they're found in the sexy underwear section of the Hips and Curves site.
Have you tried Hips and Curves? What do you think of this babydoll? Do you buy cute sleepwear or prefer some other option?