Longline bras are taking the full bust world by storm (thank goodness!) but this season Curvy Kate has released one with the best cup size range yet. While Freya, Parfait by Affinitas and Elomi have released several that go to a G cup and H cup, it's nice to see Curvy Kate extending the style to a large cup market that has desperately been wishing for it. I'm a proponent of the "longlines for everyone" philosophy, so I really hope this means that more companies will be using this style for larger cup sizes soon.
This was the set that caught the eye of most bloggers back when Spring/Summer 2014 previews were released, so I was thrilled when Curvy Kate offered to send me a set to try out. I based the bra size off my Princess size and took a stab in the dark at the panty and garter belt size. I ended up with a UK 16/US 12, which was pretty much perfect.
So how does it look on a real person? Check it out: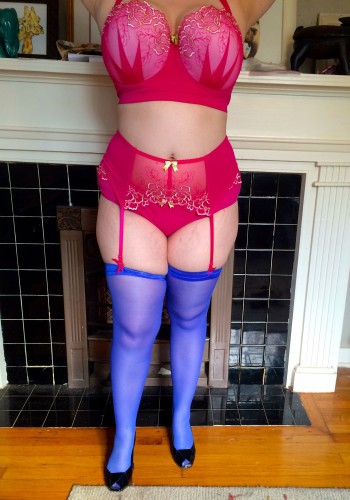 This set is just gorgeous. It's supremely girly, but the contrasting accents act as a great palate cleanser when you see it all together. The roses are floral without feeling fussy – this is a great example of how to do florals in a new and exciting way. Other brands, please take note! On a side note, several people have asked about the stockings I'm wearing: they're Vienne Milano and I love them to death. They'll get a whole separate review later!
This bra is true to size and I love it, but it's definitely better suited for full on bottom breasts than full on top breasts. It fits me, but I do have a bit of that orange in the glass effect going on at the bottom. That said, I've worn it a ton. In fact, it took me all this time to get the review up because I was washing and wearing it constantly.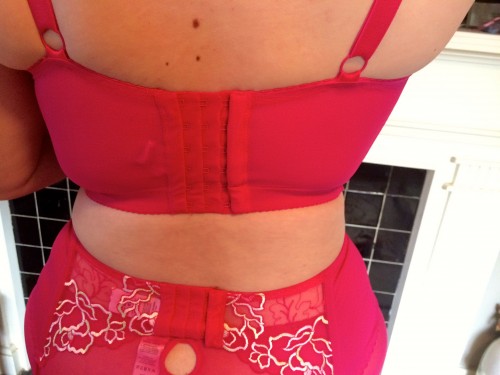 As you can see, this bra has a real longline band and tons of hooks! It feels secure yet comfortable, like a firm hug.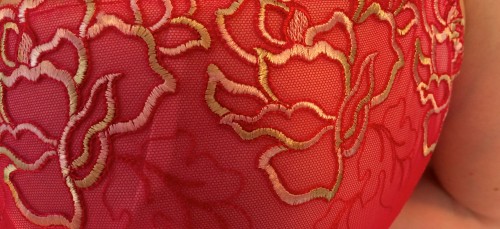 You get a bonus shot of the floral pattern because it is just that pretty. I love it. It really feels like spring to me.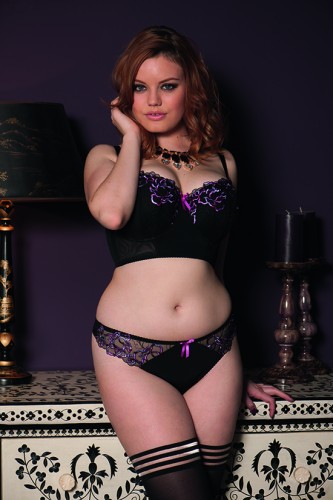 If pink isn't your thing, Curvy Kate will be re-releasing this for Autumn/Winter in this black and bosenberry combination. Guess who will be picking that one up? Yeah, me. It's rare that I want two colorways of the same bra, but this one is an exception to my rule.
Have you tried the Carmen bra yet? How do you feel about longlines? Let me know in the comments.