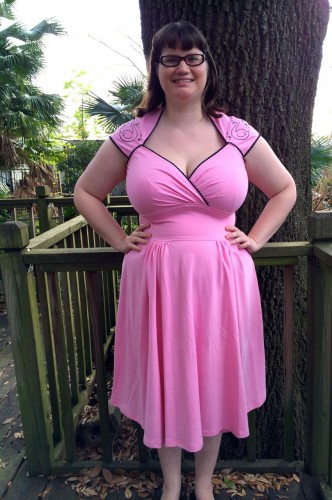 I'm sort of ashamed it's taken me so long to feature the amazing Luscious Dress by Pinup Girl Clothing on the blog, as it's been one of my wardrobe staples for several years now. As someone who wears dresses almost exclusively, I often yearn for flattering yet casual options. The Luscious Dress fills almost every casual need I have, which is why this pink one is my third!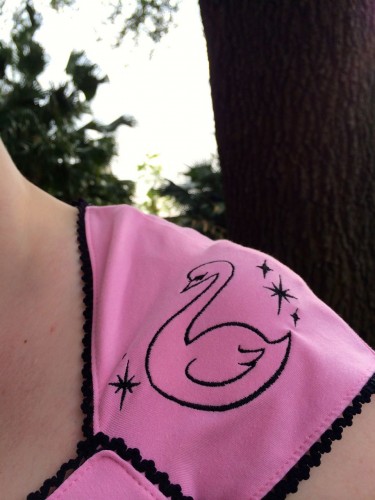 Pinup Girl Clothing describes this as their version of the basic babydoll dress. While I've never been into babydoll dresses, it's hard to imagine a better casual dress build than this. Each dress is made out of thick cotton t-shirt type fabric that wears and washes beautifully, but has some extra ric rac trim to make the dress feel a little special. Each color also features a unique design embroidered on each shoulder, which means you don't feel like you're wearing the same dress all the time if you own multiples. There are currently six color options available and I occasionally debate stocking up on them all.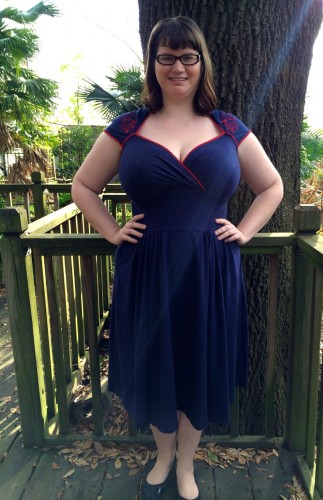 Honestly, without trying to sound like an ad, I wear these for everything. They're great for running errands, taking the dog for a walk, or even going out for casual dinners. They wash beautifully, which means I don't worry about dropping barbecue or soy sauce on them. The pink is new, but the blue and the green versions have been washed at least once a week every week for the last two years. As you can see, they're in incredible shape for the amount of wear that they've gotten.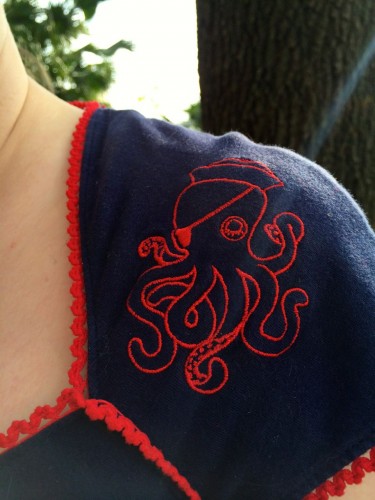 It's extra hard to find flattering casual dresses if you're full busted, so I really like that these have enough structure to create that strong hourglass shape that I like without feeling constricting at all. While they give just a hint of cleavage, I'm wearing a regular Kris Line balconette bra in these photos with no problems. I'm always a fan of not having to break out a super low cut bra to run errands in.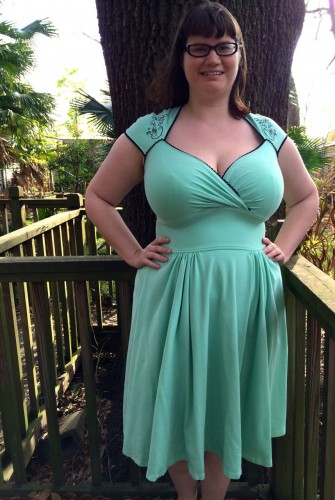 All of these are an XL and hit me right below the knee on my 5'4″ frame. You could dress them up, but this is pretty representative of how I wear them – throw on a pair of basic flats, run a brush through your hair and you're ready to go.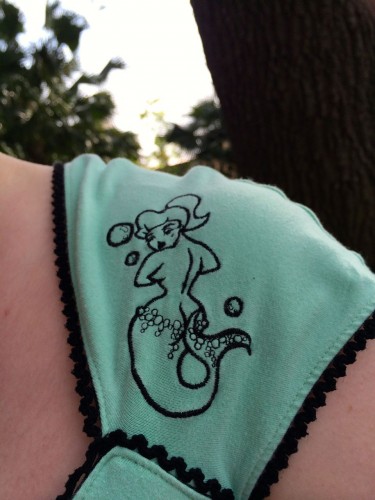 These dresses are also fairly wrinkleproof, which makes them easy to care for a great for travel. The blue and the green versions went through my house move and spent a week shoved into a moving box with no ill effects. I also forgot to steam them for these photos. Oops!
The one downside to these dresses is that they have no closures, so if you're full busted they can be a bit tricky to pull over your head without pulling any stitches loose. In the spirit of honesty, I'm pretty sure I've pulled lots of stitches loose in the blue and green ones and inevitably will in my new pink one. They've still washed well and I haven't had any issues with them, so I'm not sure it's worth stressing over (other than that lovely stitch pulling sound that gives me anxiety). At $80 a dress, they're some of the best wardrobe money I've ever spent.
Have you tried a Luscious Dress? Do you like the look of them?