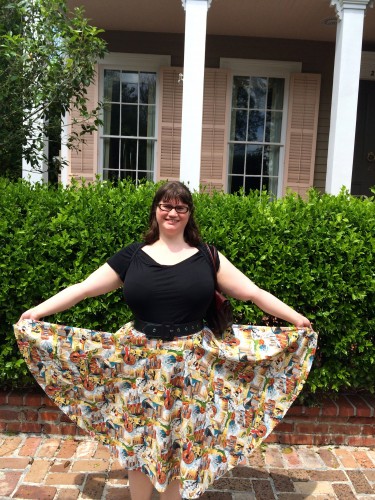 I was lucky enough to work with the fabulous Jasmine of Betty Le Bonbon and in the process I also got to try one of her amazing skirts! I've put it up on social media a few times, but earlier this week I wore it up to the Garden District to get some proper photographs of it. It turned out to be a great choice, considering it was nearly 80 degrees out and I'm not used to the sun and humidity yet here (these pictures are from before I started to resemble a lobster!).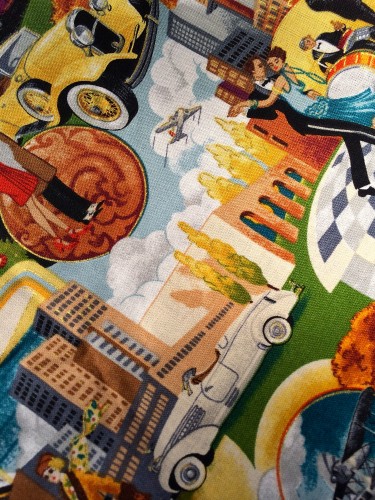 Betty Le Bonbon skirts show up all over the internet now, but if you're unfamiliar with them then here are the basics:
1) BLBB offers tons of amazing vintage inspired fabrics. All you have to do is pick your favorite!
2) BLBB asks for your waist measurement and skirt length (up to 24 inches long for most skirts). You pay and your custom skirt magically ends up at your door!
I immediately fell hard for this Jazz Age inspired fabric, but loved it even more once I realized it had metallic accents in it! That said, this skirt clearly works for both casual and dress occasions. I've now dressed it up in multiple ways and it's worked with each outfit.
It looks pretty nice with some beautiful Garden District houses behind it too! This is how you can identify me in a crowd generally
– I'm the woman clutching the hot coffee in 80 degree weather. 
There is supposed to be a review in here somewhere, so let me get to it. These skirts are gorgeous and extremely well made. It closes with a hidden zipper and a hook and eye clasp on the back. This skirt has a 33″ inch waist, which is exactly what I measure in other vintage repro brands. I'm 5'4″ and this is the maximum available length for this skirt – when I buy another one I may actually try it shorter! The print is eye catching without being too loud and I've gotten lots of compliments on it every time I've worn it. I haven't tried washing or dry cleaning it yet, so I can't report back on that. I suspect it'll be treated much like my Trashy Diva dresses in that respect, so I'm not really worried about it. This has the shortest possible waistband, which means there is no bunching under a belt or over your hips. Yay! That's a common problem with vintage repro skirts, so it's nice to see that Betty Le Bonbon has it under control.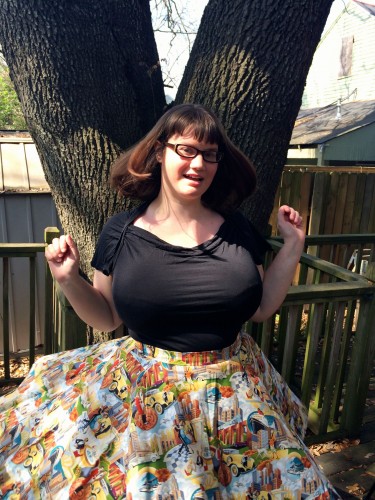 Betty Le Bonbon has started to offer lots of other options besides skirts, so I'm honestly torn about what my next purchase will be. A sassy miniskirt? A Dita Homage dress for winter? Decisions, decisions.
As a bonus, here are a few pictures from my trek to the Garden District today for those of you interested in architecture and the occasional aboveground gravesite.