I know this review is a little behind the times, as most bloggers have already reviewed the Panache Envy or it's cousin, the Panache Jasmine bra. Panache has always been a hit or miss brand for me, so I honestly haven't tried them in three or four years and I've only ever tried the Tango. On top of everything else, I truly hate the idea of beige bras. Unfortunately I really like this dress, so when my lone beige bra died I needed a replacement.
Luckily Erica of A Sophisticated Pair had lots of great suggestions when I called the store – her first choice for me was this Envy bra. I do a lot of preorders through her, but she happened to have one in my regular size in stock! A few days later, this 34HH Envy bra showed up on my doorstep.
So how does this look in a 34HH?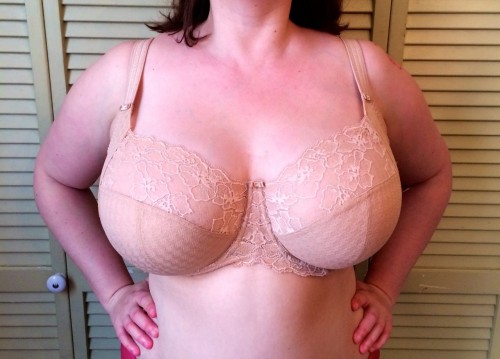 Apologies for the awkward color of the photo – I'm not used to the stronger sun here yet and keep getting sunburned despite my best efforts.
This bra boosts some very smart construction along with some really nice materials. Panache bras can be a bit scratchy, but this one is soft and flexible. I love how the houndstooth pattern livens up the cup some, while the stretch lace top provides some sizing flexibility. This is the rare bra that works great for multiple breast shapes and tissue types, which has obviously contributed greatly to its popularity. In some ways it reminds me of the Elomi Valentina bra, which also uses the stretch lace construction to great effect. The band and cups on this bra fit true to size, so I'd stick with whatever you think of as your real UK bra size.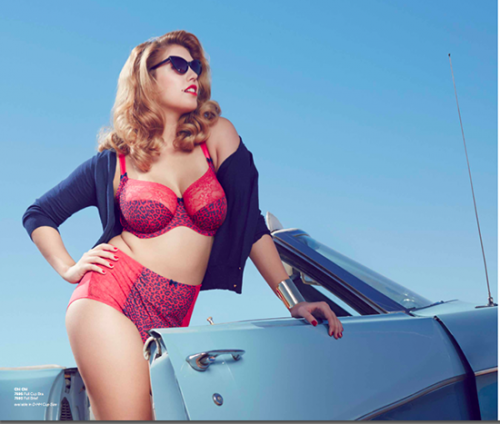 Panache has already taken this construction (originally seen in their popular Jasmine bra) and rolled out the Envy as a basic version of it. Given my tastes in lingerie, I was extra excited to see it will now be showing up as the bold and fashion forward Chi Chi set in the Sculptresse line. I definitely plan on sister sizing into this to give it a try when it releases in the autumn.
I love the fit of this bra, although I'm still on the hunt for a beige bra with a deeper plunge to go under some of my v-neck dresses. This is the perfect everyday bra that I was looking for and I'm glad I took a chance on Panache after all of these years.
Have you tried the Jasmine/Envy yet? Did you like it?