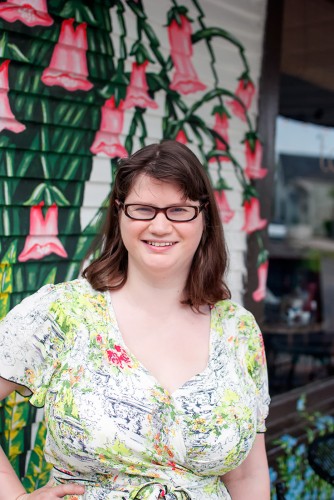 I almost feel a bit guilty reviewing this, as this fabulous dress is from a local store in the French Quarter and doesn't have e-commerce yet. However I love the dress and you can buy by phone or through their social media, so I still think it's fair game. If you've never heard of Dollz & Dames, they're definitely worth a vacation to New Orleans (or to Seattle to visit their sister store Diva Dollz).
If you're super curvy or just plus size there's lots of reproduction vintage clothing out there. What you do miss out on is some of the best parts of real vintage clothing – original novelty prints. What you can find is hideously expensive and sometimes not in the greatest condition, which makes collecting older prints a tough proposition. If this describes you, then Dollz & Dames may be your new favorite store. Item prices range from $80 to $200 and span a huge range of sizes. Alterations are also offered on purchases that need some tweaking for a perfect fit – something I definitely took advantage of when buying this dress! I've heard that they'll even make custom dresses, but I haven't tried that option yet. Their focus is on vintage reproduction clothing that is easy to wear and easy to wash – everything they sell can go through the washer, including their deadstock fabrics. The majority of their items are Made in the USA as well.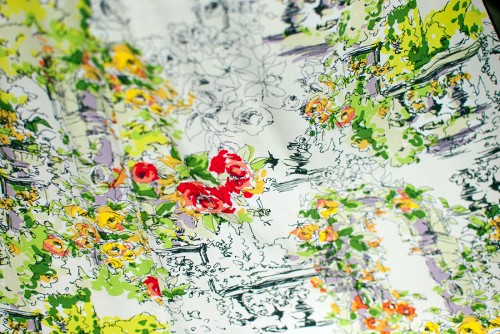 While they stock lots of popular vintage reproduction brands, the real gems at Dollz & Dames can be found in their own line of clothing. This dress is from one of their small runs (only 30 pieces were made from this fabric) of dresses that are made from exquisite deadstock fabrics – this one is appropriately from the 1930's and features beautiful Parisian garden scenes.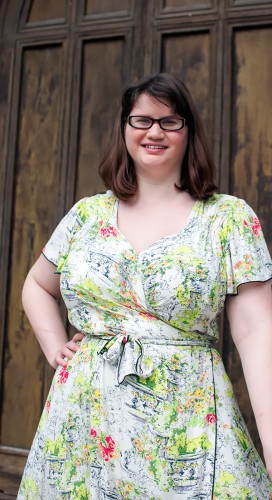 This dress is a size XL, which fit perfectly except for the neck pulling open due to the wideness of my chest. In any other store this would have been a dealbreaker for me, since I'm lazy and hate getting things altered. At Dollz & Dames, it was easy. The lovely sales assistant did some pinning while asking me questions about necklines/how much cleavage I wanted to show and a week later my dress came back with a nearly invisible snap put into the bust area. Even better, their tailor clearly knew how to work with clothing for busty women, since the snap was placed at the point where the fabric takes the least pressure.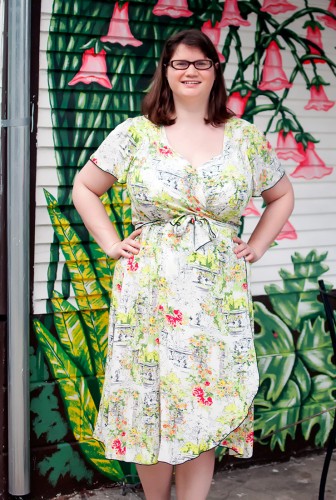 This dress is not only pretty, but possibly the most practical thing in my wardrobe right now. It's wearable for work and for fun and could easily be dressed way up with gold jewelry and some seriously fancy shoes. Alternatively, I can wear the snap open with a contrasting tank top underneath for super casual days. Since it's washable, I don't have to spend every moment I'm wearing it wondering about what happens if I brush up against some dust and dreading the dry cleaning bill. The deadstock rayon is insanely soft and lightweight, which makes it perfect for the sub-tropical climate here. Since winter wardrobes here are basically summer dresses with a cardigan over them, I'll probably end up wearing this dress through all of the seasons.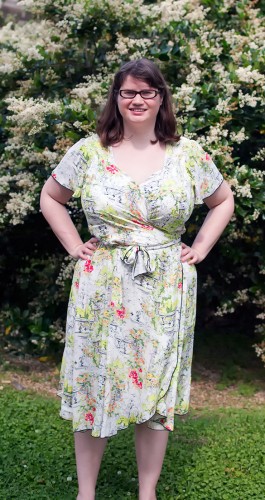 Since this is predominantly a brick and mortar store (although they are working on an e-commerce site currently) I feel like I should talk about the shopping experience and not just the products. This is one of the few stores where I've never had to try on a bunch of things and guess about size – I've bought two things now from them and both times was handed the piece in the correct size by the sales assistant after describing the sort of item I wanted. They're fantastic at figuring out what looks good on people and working with all sorts of body types. Conversely, they're also good at gently letting you know that the item you're looking longingly at probably isn't the best prospect for you and selecting an alternative. If you're in New Orleans and the French Quarter, this is a shopping experience you should not miss. Vintage clothing lovers can check out both this store and Trashy Diva at the same time since they're a short walk away from each other.
What do you think of this dress? Do you love vintage novelty prints?